Katie Holmes penned a sweet Instagram post to Dawson's parents after they weren't invited to the "Dawson's Creek" reunion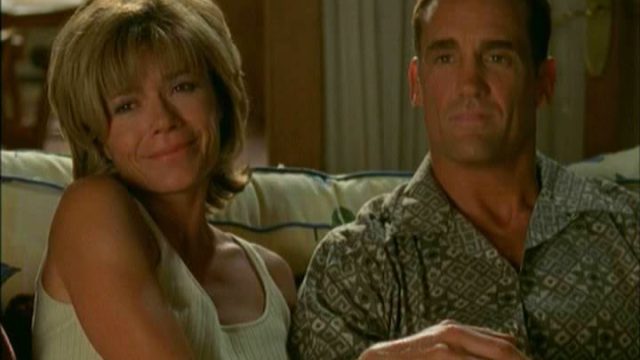 In so many shows about high schoolers, the parents often take a backseat to the kids' dramatic storylines. That wasn't really the case with Dawson Leery's parents in Dawson's Creek, though. Because Gail and Mitch Leery — played by Mary-Margaret Humes and John Wesley Shipp — had their fair share of drama, too. So when Humes and Shipp didn't appear on the Dawson's Creek 20th anniversary cover of Entertainment Weekly, people were understandably miffed. In true Joey Potter form, Katie Holmes wrote a sweet Instagram post honoring them and proving just how important Gail and Mitch were to the show.
"Mary Margaret and John were such a huge and important part of #dawsonscreek I am so grateful to have worked with them and experience their kindness," Holmes wrote in her caption.
The image Holmes shared originally came from Humes' Instagram account, and it shows Humes and Shipp in an adorable pose during the Dawson's Creek era next to a more recent recreation. In her caption, Humes explained how slighted she felt after being left out of the official reunion.
"This was their choice...not ours...it was done behind our backs and we both were literally blindsided by it when we woke up yesterday in NYC and LA...we both did a short telephone interview after the fact but were never told about the reunion," Humes wrote on Instagram.
https://www.instagram.com/p/Bg7iTBsl1bj
Here's Katie's post, with her heartwarming caption:
https://www.instagram.com/p/Bg9YmfpHkNZ
Humes and Shipp shared the love right back.
"My beautiful Katie…you always were and always will be forever in my heart," Humes commented on the pic. "Thank you for your kind words. I love you…MM."
"Happy 20th! Enjoy, so proud of you, as ever, and sending love," Shipp added.
Shipp didn't take the news too hard. He even shared one fan's hilarious Photoshop job of the EW cover.
https://www.instagram.com/p/Bg6NpS8nzLv
Hopefully, the full gang can get together soon.
We know we would love to see Dawson's parents back together with everyone. So to quote the theme song, "Will it be yes or will it be sorry?"