Katie Couric broke her silence on Matt Lauer's firing from "Today"
In the aftermath of Matt Lauer's firing from Today, people have been especially curious to hear responses from Lauer's female coworkers past and present, including Savannah Guthrie, Ann Curry, and Katie Couric. On Friday, December 8th, Couric broke her silence about Lauer.
On November 29th, Lauer was fired from Today for inappropriate sexual behavior in the workplace. Guthrie and Hoda Kotb broke the news on air. The following day, Lauer responded to the allegations of sexual misconduct via a letter that Guthrie read on air. Couric and Lauer have a long history of working together. They co-anchored Today together for nearly a decade. Because of that, many are interested to hear what she has to say. Couric broke her silence, but not in the way we were expecting: She replied to a comment on Instagram.
Instagram user Candace Taylor Benson commented on one of Couric's photos. Benson called out the journalist for not saying anything about the allegations of inappropriate sexual behavior that have to come light in recent weeks. We know now that Lauer has a history of questionable behavior with female guests on air. And that doesn't even include the workplace harassment for which he was fired. Some of his inappropriate actions were even directed at Couric herself. In a 2012 interview with Andy Cohen, Couric addressed Lauer's treatment of women, saying that he "pinches me on the ass a lot." Though like many women who feel uncomfortable in those situations, she laughed about it at the time.
On Friday, Couric spoke a little about Lauer, with the promise of more to come.
She replied to Benson's comment with a short, simple message: "it's incredibly upsetting and I will say something when I'm ready to. Thanks for your interest," Couric wrote on Instagram. Enough said.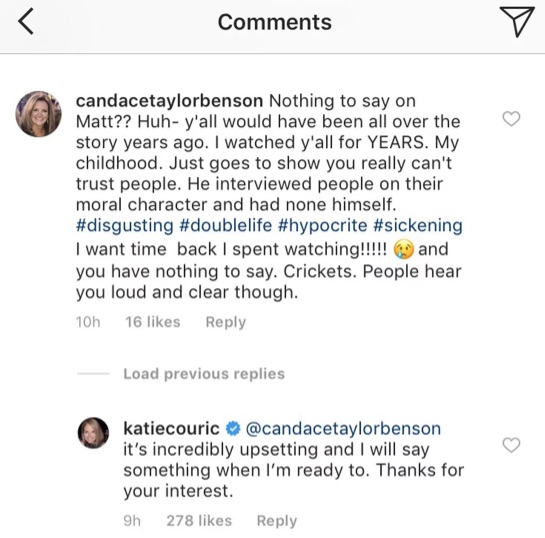 Couric's comments bring to light the burden placed on women to speak immediately on their friends and former coworkers' high-profile misconduct allegations.
It's worth reminding ourselves that we can take our time responding, or not respond at all. And that it is painful when you find out that people you know have acted in horrifying ways, and that women you've worked with have experienced harassment at work. It's worth examining the pressure we put on women to say all the right things in these situations.
It's amazing when women speak up about their colleagues and friends, but it's also a difficult, courageous act. Especially when those women, like Couric, may have experienced actual moments of harassment. We look forward to the moment Katie Couric is ready to speak. Our ears are open.