Kathleen Lights teased her upcoming KL polish spring collection, and the shade names are so cute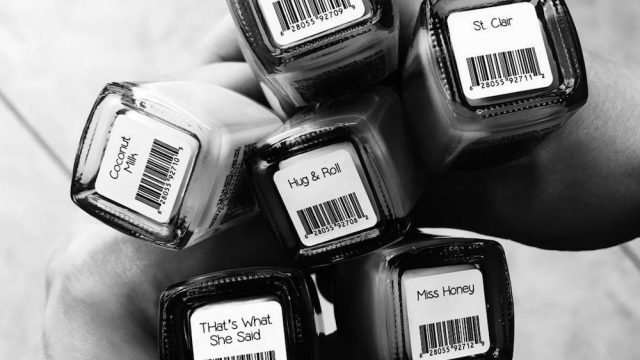 Cutie-pie beauty blogger Kathleen Lights recently teased the spring collection of her popular KL Polish lacquer line. If it's anything like her first collection, it's going to be fabulous!
Six new polishes will be joining the seven existing shades from KL. Her first collection dropped in December and featured warm neutrals and colors with a fall and winter feel. Kathleen also released a super-sparkly gold nail color for her birthday. We'll have to wait a little longer to see what the next shades will be.
Kathleen teased us with a black and white pic that only revealed the polish names. The shade names are playful and fun, including one called That's What She Said.
You're killin' us, KL!
Coconut Milk, Miss Honey, and Pistachio Ice Cream imply the colors in their names. St. Clair and Hug & Roll don't really give much in the way of context clues, but from the picture, they look pretty light. That's What She Said is the darkest color in the handful. We can't wait to see what they are!
The current shades from Kathleen's first nail polish collection.
https://www.instagram.com/p/BRi3sgclx0x
Kathleen asked her followers to guess what the shades are in the comments, saying,
"Spring Line COMING SOON (if you saw my recent random rambles video -you know) HERE ARE THE SHADE NAMES!!! I thought it would be fun to play a guessing game! Based on the names, comment below what you think the color is going to be! Hahah xoxo. Eventually we will see who was right."
Buy Kathleen's latest collection when it drops "soon" at KLPolish.com!