Katherine Heigl opened up about gaining 50 lbs during her pregnancy — and why she was totally okay with it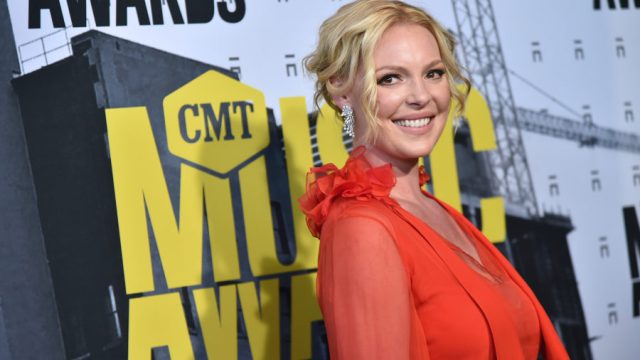 Celebrity moms and non-celebrity moms alike are often under tremendous pressure to "lose the baby weight" right after giving birth…an expectation that is immensely unfair and often impossible to attain. But Katherine Heigl just opened up about gaining 50 lbs during pregnancy and why she was okay with that — and it's a message all moms-to-be and new moms should hear.
Back in December, Heigl and her husband welcomed baby Joshua Bishop Jr., and they're now settled into life as a family of five, with their eight-year-old daughter Nancy Leigh and five-year-old daughter Adalaide Marie Hope. But in a new post on her blog, Heigl admits that she stressed about losing weight after giving birth.
Heigl said she had  "moments of sheer panic" about her ability to lose weight after gaining more than she expected during pregnancy. But she began to trust that her body was doing what it needed to do to keep her and her baby healthy, writing, "At a certain point, probably around 4 months I gave up the struggle and tried instead to respect my body's needs and trust my instincts."
"We've all heard about the gals who tone up and get right back into their skinny jeans weeks after their babies birth but this was not me, nor was I trying for it to be," she added.
She also opened up about embracing the "glorious imperfections" that her body now has, like her cesarean section scar (though we'd tend to believe there's nothing "imperfect" about weight gain or stretch marks!), adding:
"Every once in awhile I look at the scar and wish I could do something to minimize it, then I think to myself that it's actually kind of a beautiful reminder. This attitude of forgiveness and gentleness is the spirit with which I have embarked on my weight loss journey and it's made all the difference in the world."
We're all for Heigl embracing her body just as it is, and she shared the one thing about body positivity that can so often be so hard to grasp: that shaming and hating your body only breeds more negativity, and you can't "shame" yourself into a "perfect body."
"The years of deprivation, counting every single calorie, completely eliminating major food groups and setting unreasonable weight goals are over. None of those things ever really worked for me and only fostered an unhealthy, resentful relationship with my body, an attitude that I do not want to pass on to my daughters. There was something about my pregnancy and post pregnancy body that instilled a sense of body pride in me and a freedom from body shaming that has been such a persistent part of my life for so long."
The message behind this is so important, and we applaud Heigl for taking a gentle, loving approach to her body, especially when it comes to raising her daughters to love their bodies, too. More of this, and less body shaming and impossible beauty standards, please!