Kate Walsh posted a recent selfie of herself with Patrick Dempsey on what looks like the "Grey's Anatomy" set, and we have questions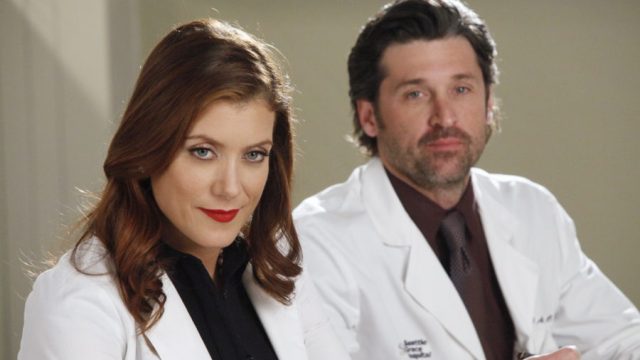 Okay, hold the stethoscope. It feels like we've traveled back in time, and now we're a bit woozy. Good thing we have two doctors on hand to help us out. Private Practice's Kate Walsh posted a photo of herself and former costar Patrick Dempsey on what looks to be the Grey's Anatomy set, and we're wondering what the heck is going on.
Walsh and Dempsey appear to be in their white coats and scrubs as if they're readying themselves to shoot a Grey's scene at any moment, which wouldn't be weird, except that neither Walsh nor Dempsey is on the show anymore.
Remember Walsh left to shoot Private Practice and [spoiler alert] Dempsey got killed off? So what gives?
Of course fans in the comment section of the Instagram post are freaking out wondering what is about to grace our television screens. Does Dr. Addison Montgomery return to her old stomping grounds? Does McDreamy come back to life? Hmm…we're not sure about the latter.
We're thinking there are two plausible options here. One of which is that Walsh and Dempsey are shooting a flashback scene.
Because they are two beautiful humans who truly haven't aged since their last appearance on the show, this could be a valid theory.
Our second thought is most likely the winner here. Walsh and Dempsey both partnered with Cigna as TV Doctors of America alongside Neil Patrick Harris and Donald Faison. Together the team is working together to spread awareness about the value of annual checkups.
One way of spreading awareness is shooting comical promotional videos like this one:
https://www.youtube.com/watch?v=fTW7EgoKpSE?feature=oembed
So as much as we'd love to believe Derek rose from the grave, Walsh and Dempsey are most likely advocating for checkups, which makes us love them more than any old flashback ever could.