PSA: Kate Spade's sale section is an extra 50% off right now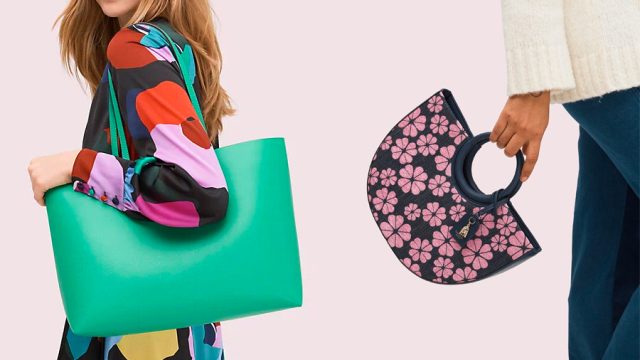 Looking for something to brighten your mood this afternoon? Take a minute to shop around Kate Spade's colorful and cheery sale section and thank us later. With everything going on in the world right now, this spring feels different. But as we're all practicing social distancing at home, we're dreaming of days ahead when we can enjoy sunny picnics, brunch with friends, and social gatherings with more than just our roommates and pets in attendance. So we're shopping the Kate Spade sale to prep for good times in the future when we'll be wearing real clothes again and need adorable accessories to go with them.
Kate Spade's Spring's In Bloom Sale is offering an extra 50% off all sale items when you use the code "HISPRING" at checkout. The sale runs from right now through April 13th at 11:59 p.m. PT. Because we've been dreaming about our post-quarantine lives, we picked out some of our favorite springy bags that we can't wait to wear outside. (And for now, we'll just be parading them around our apartments.) We're clinging on to these bright colors and pop-y florals, and we're here to spread the joy.
Shop our favorite bags, purses, and wallets from the Kate Spade sale below.
Kate Spade Molly Large Tote
$80 with code HISPRING (orig. $228)
Shop it
Kate Spade
Honestly, it's hard to pick just one of these four vibrant colors. The names of each shade remind us of everything we dream of in spring: meadow green, forget-me-not blue, hot chili red, and lemon cake yellow. And with the promo code bringing the tote down to just $80, you could snag two for less than the original price of one.
Kate Spade Romy Medium Backpack
$119.50 with code HISPRING (orig. $398)
Shop it
Kate Spade
Never has a work-perfect backpack made us smile so much. It has a minimal, professional design with a roomy inside, but the bright, fiery orange-red color keeps things playful. If your workwear wardrobe is a bit more neutral, the deep evergreen color is also a great choice.
Kate Spade Andi Glitter Mini Canteen Bag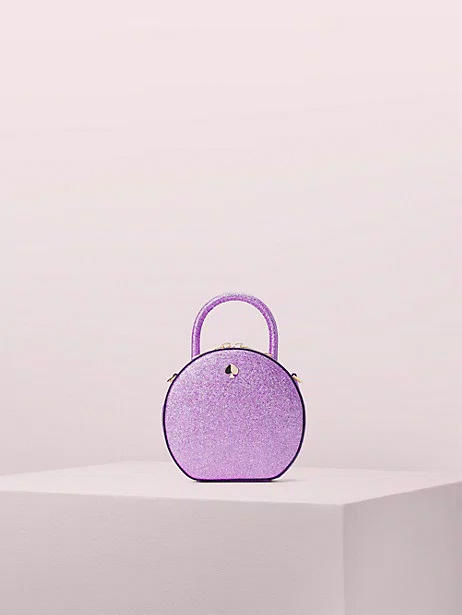 $90.50 with code HISPRING (orig. $258)
Shop it
Kate Spade
Parties—remember those? When we're no longer practicing social distancing, we're going to need some glitter to celebrate. This glam, hatbox-inspired bag is getting us so excited to get all dressed up for a night out with our friends—just not right now. Shop the mini canteen bag while it's still on sale and save it for later.
Kate Spade On Purpose Circle Tote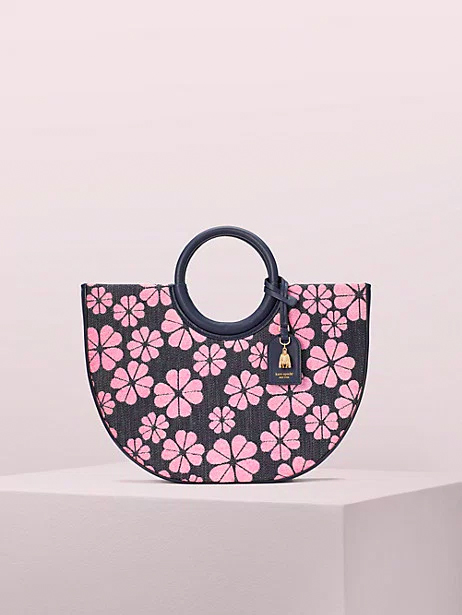 $89.50 with code HISPRING (orig. $298)
Shop it
Kate Spade
Talk about a statement piece. This geometric tote will do all the talking the next time IRL brunch dates are back on. And it's not all fashion without function. The circle tote has two interior pockets for organizing and its stiff structure allows it to stand up on its own. At only $89.50, this bag is an absolute steal.
Kate Spade Candid Medium Camera Bag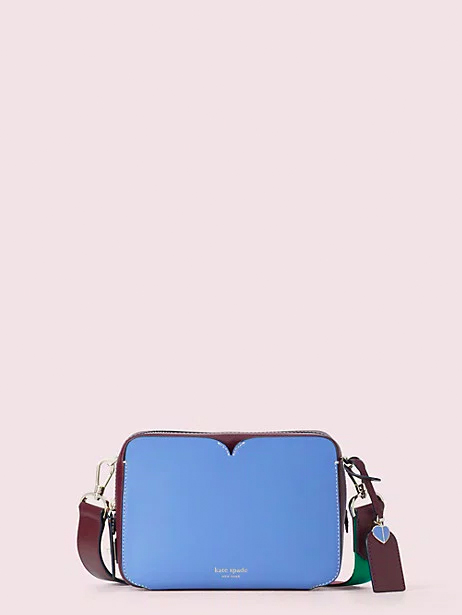 Kate Spade's website says this bag is one of the brand's "most functional crossbodies to date." In addition to its roomy interior, practical pockets, and zipper-lock reinforcement, this camera bag comes in the cutest color-block options. The powdery blue option with bright green accents first caught our attention, but every colorway is a solid choice—especially while marked down to less than $100.
Kate Spade 3D Cabana Dot Heart Crossbody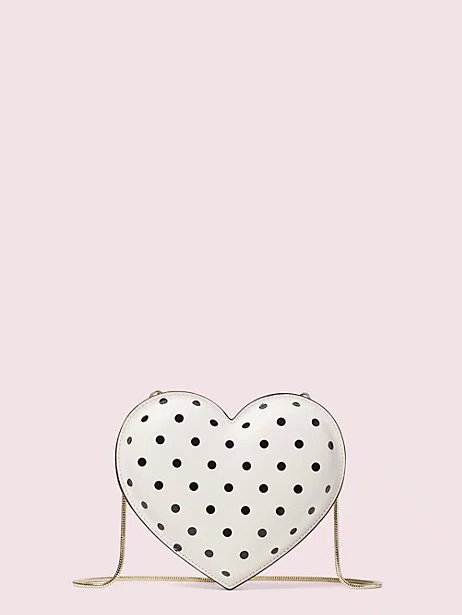 $104.50 with code HISPRING (orig. $298)
Shop it
Kate Spade
This heart-shaped bag in classic Kate Spade polka dots is what we would call "cartoon chic." The fun shape and pattern has so much personality packed into a compact design. Keep your outfit simple and this crossbody bag will carry the whole look for you. And if you're going for a more formal style, ditch the chain and try the bag out as a clutch.
Kate Spade Spencer Party Floral Zip-Around Continental Wallet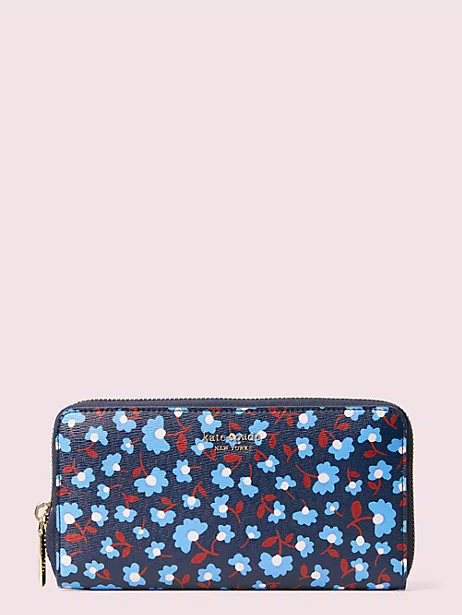 $56.50 with code HISPRING (orig. $188)
Shop it
Kate Spade
We love the playful florals on this wallet—and we love its functionality even more. The cute and practical wallet comes equipped with 12 card slots, four interior pockets, one exterior pocket, and plenty of extra room for receipt hoarding. It's clearly perfect for spring, but we want this perky design in our bags all year round.
Kate Spade Spencer Mini Keyring Wallet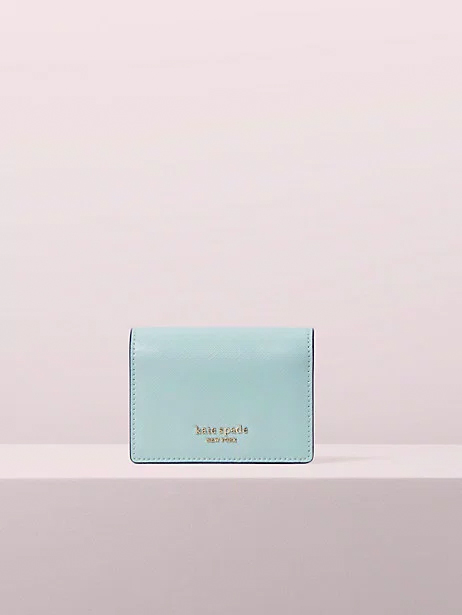 $29.50 with code HISPRING (orig. $98)
Shop it
Kate Spade
This mini keyring wallet is perfect for anyone who hates carrying around a bag. It's got some serious grab-and-go potential, with a place for your keys, your cash, your cards, and your coins, all in a compact style. The itsy-bitsy, two-toned wallet even has a see-through slot on the back, so you can flash your ID like the easy-breezy queen of convenience you are.