Kate Spade has died at 55 years old, and so many people are sharing their heartbreak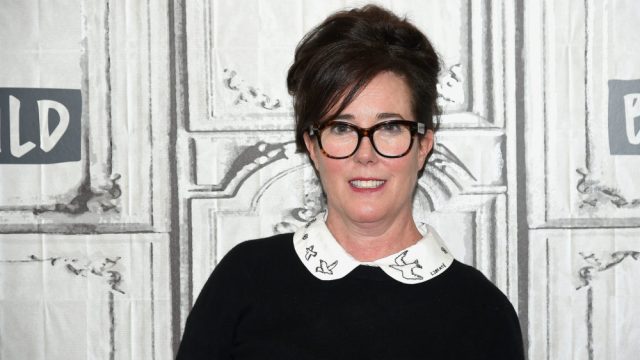 It's with heavy hearts that we must report that iconic designer Kate Spade has died at the age of 55 from a confirmed suicide. The New York Times reports that Spade was discovered unresponsive in her Park Avenue home this morning, June 5th, and was pronounced dead at 10:26 a.m local time. The Times also reports that the official cause of death was hanging. Spade leaves behind her husband, Andy Spade (brother of actor David Spade), and a 13-year-old daughter, Frances Beatrix.
Born in 1962 in Kansas City, MO, Spade was originally Kate Brosnahan. Initially an accessories editor at Mademoiselle, Spade decided to start designing when she got tired of the over-accessorized handbags on the market at the time. She was quoted as saying that she just wanted "a functional bag that was sophisticated and had some style," in a 1999 NYT interview.  She founded her namesake company in 1993 with her future husband, Andy, and soon became known as one of the most prominent and business-savvy women in the industry. The brand—which now includes everything from dresses, to accessories, to shoes—is known for its fun, bright colors and retro flare.
The Spades eventually sold the company and by 2007 had little to do with the brand, instead opting to focus on other projects and charitable endeavors. In 2016 Spade launched a new accessories label called Frances Valentine. (Spade was so passionate about the project that she reportedly changed her last name to Valentine.)
Her brother-in-law, David Spade, posted his shock and sadness to Instagram on June 5th, along with a photo of the two together.
Her niece, Rachel Brosnahan, who stars in the Amazon original series The Marvelous Mrs. Maisel, also posted her love and a memory of the designer.
As expected, so many others are taking to social media to express their sadness over the loss, as well as to remind others that it's always okay to reach out for help if you're struggling with depression or mental illness.
false
false false
https://twitter.com/udfredirect/status/1004043115202674688
false
Our hearts are with Kate Spade's loved ones today. If you or anyone you know is currently struggling with suicidal thoughts, there is help. Reach out to the National Suicide Prevention Lifeline at 1-800-273-8255.