Kate Middleton's hairstylist just shared the secret to "rich girl hair"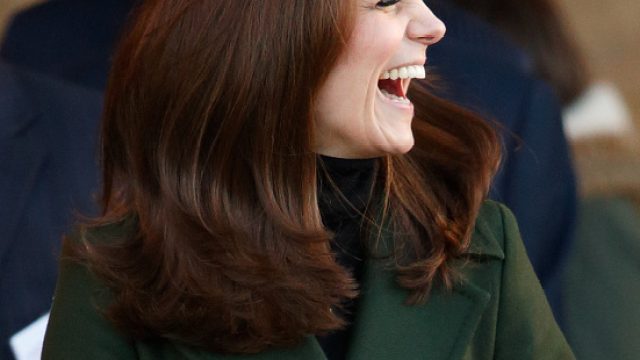 Women the world over are obsessed with Kate Middleton's fabulous brunette locks. Now her very own hairdresser, Richard Ward, is spilling the dirt on how he makes the Duchess's hair look perfect every time.
Richard spoke to the UK's Daily Mail about the secret to getting "rich girl hair" and here's the scoop: it's all about a good blowout. "If you're after expensive-looking hair like Kate's, the key is the blow dry," Richard told the site. "You're never going to get rich girl hair without a good blow dry."
To get that perfect blow dry, you need a combination of factors. "The products are important, but having hair that is in good nick, thanks to regular trims, treatment, and a decent hairdryer is the secret to making it look fabulous," Richard explained. ". . . That shiny, frizz-free, expensive-looking process requires time. Products are part of it, but if you don't know the basics and invest the time, you'll never have the right look."
Don't believe the trim-every-six-weeks myth, he says — you must get a cut at least four times a year to keep your hair healthy. "Statistically, women in general are coming to the hairdresser twice a year less than they used to," Ward said. "This is down to economic reasons, the fact that products are better than they used to be, and also because we're better at doing our hair at home than ever before."
However, when women do come to the hairdresser, guess whose hair they ask for? "[W]hen they do come, it's still all about asking for 'the Kate' and 'the Rachel' — there's not really anyone new to rival Kate's fabulous hair style," he said.
Although people get attached to their long locks, Kate Middleton's hairstylist suggested those who covet her hair switch it up a bit, like she did:
Other tips from Richard Ward? Wash your hair often, especially if its "fine and greasy," he said. "You will never get rich girl hair without washing it." He also advocated using a "decent hairdryer" and blowdrying hair while it is still very wet. "Dry it from 75% wet – the wetter, the better – and make sure you use a nozzle. No hairstyle I do uses a hairdryer without a nozzle."
For those who can afford it, Richard suggested a couple products to make your hair look royally good. "It's all about cocktailing small amounts," he told the Daily Mail. "I favor an Argan oil elixir – which is a cross between a serum and an Argan oil – this works very well for giving the hair shine." Lastly, he advocated using a real bristle brush and limiting the use of heated curling or straightening irons.
Whew, that's a lot to keep in mind. Fabulous Kate Middleton-esque locks can be fun once in a while, but we're totally happy just throwing our hair up in a ponytail sometimes, too. We're sure the Duchess would approve.