Kate Middleton says motherhood is "overwhelming" — even for a Duchess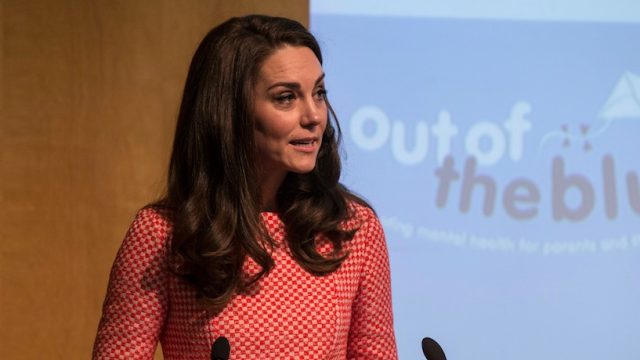 There are many jobs in life that demand infinite patience and superhero-like resilience, but parenthood probably tops the list. Because it's infinitely important, and pretty much never ends.
While introducing the Out of the Blue mental health film series in London, Duchess Kate Middleton said motherhood is a 'huge challenge,' which makes us love her even more. She's a member of the royal family, yet she still experiences the ups and downs of raising her two little humans, Prince George and Princess Charlotte. "Personally, becoming a mother has been such a rewarding and wonderful experience," she shared. "However, at times it has also been a huge challenge — even for me who has support at home that most mothers do not."
via giphyShe went on to share her rollercoaster of motherly emotions, in it's incredibly relatable.
"Nothing can really prepare you for the sheer, overwhelming experience of what it means to become a mother. It is full of complex emotions of joy, exhaustion, love and worry, all mixed together. Your fundamental identity changes overnight. You go from thinking of yourself as primarily an individual to suddenly being a mother, first and foremost."
Middleton went on to talk about how there's no rulebook for motherhood, and no mom can expect things to be rosy all the time. "You just have to make it up and do the very best you can to care for your family. For many mothers, myself included, this can, at times lead to lack of confidence and feelings of ignorance." 
It's comforting to know that Middleton is one of us, and we're so glad she's opening a public dialogue on these often-ignored feelings.
Middleton also acknowledged that mothers who struggle with mental health issues face even more difficulties, and should be supported by governments and communities. Referring to the stigma of mental health and how it's frowned upon to seek help, she emphasized that it "should not be a sign of weakness." Of course she's absolutely right; after all, we go to the doctor for a broken arm, right? Seeking medical help for a mental health issue should be no different.
Seeking any kind of medical help is all driven by a positive desire: to be healthy. Why criticize that?!
via giphyFor all the moms out there, keep moving forward at your OWN pace. And never be afraid to ask for help!