Kate Middleton and Prince William's family Christmas card is here, and OMG, the kids got so big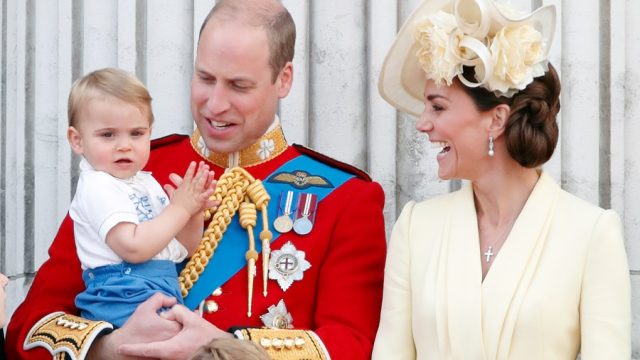 One of our favorite holiday traditions is getting a glimpse of Kate Middleton and Prince William's Christmas card, because it's always a guaranteed dose of festive sweetness. As their brood has grown over the years, seeing Prince George, Princess Charlotte, and Prince Louis posing for the camera in their holiday best truly warms our hearts amid a chilly winter. And we're here to say that the 2019 version does not disappoint.
Though Kensington Palace hasn't yet released the official photo, a few lucky recipients have shared it online, and we truly can't believe how big the royal babies have gotten. In this year's card, the duke and duchess of Cambridge and their three kids can be seen posing as a group on a motorbike. Prince Louis is in the driver's seat, and Princess Charlotte holds it down on the sidecar. As for Prince George, he looks so grown up that we can't even deal. And, of course, Kate and Will look flawless as ever.
First, let's check out last year's casual Christmas card. It featured the royal fam posing on a tree in a stunning outdoor shot that appears to have been taken in the fall, based on their cozy outfits and the foliage behind them.
https://www.instagram.com/p/BrXYSdHFcz-
And here's this year's shot, which is giving us a royal summer vibe with their warm-weather duds and the addition of a truly surprising prop, a motorbike.
Royal reporter Benjamin Wareing shared the photo on Twitter, and we absolutely love the casual vibe they decided to go for again this time around.
https://twitter.com/udfredirect/status/1207308327585288193
For reference, the family's 2017 Christmas card was a more traditional posed photo, featuring coordinating blue ensembles in a studio backdrop. Of course, it was taken before little Louis was born, when they were an adorable family of four.
We can't wait for Kensington Palace to share the official 2019 card themselves, but for now, we love this first glimpse. If they have any extras lying around, we're happy to send our addresses their way, because this card would look perfect on our mantle. Hint, hint, Will and Kate. You know where to find us!