Kate Middleton's new bangs are making us want to try the chop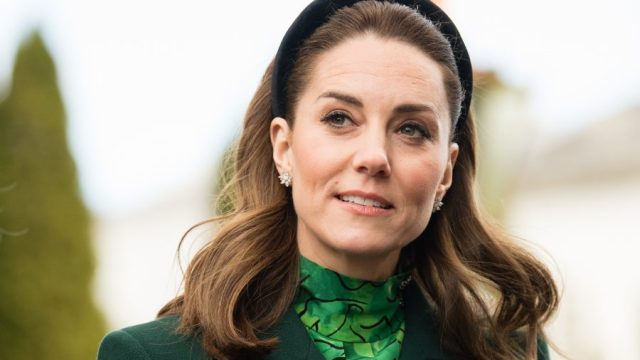 While on a royal tour through Ireland this week, Kate Middleton debuted a brand-spanking-new set of bangs. Yes, we're getting bangs, too. No, we're not going to remember the pact we made with ourselves to never, ever get bangs again. If Kate has them, we want them.
To be fair to us, Middleton's new bangs are of the very wearable "curtain" iteration—or, put another way, the kind that Alexa Chung and Brigitte Bardot have both made famous.
The Duchess paired her face-framing, '70s-inspired bangs with a shorter overall length, which is just a few inches shy of official lob status.
https://www.instagram.com/p/B9SaPQcl3k-
Although Middleton keeps her 'do more or less the same—most likely due to the fact that Queen Elizabeth has set some pretty strict fashion rules for the royals (no colorful nail polish or wedges, ladies)—the Duchess proves that even when rules and regulation are in place, the simplest of chops can be quite refreshing.
Middleton's bangs joined the Duke and Duchess of Cambridge on their three-day tour throughout Dublin, County Meath, County Kildare, and Galway, which wrapped today, March 5th.
According to a royal press release, the trip was intended to "highlight the many strong links between the UK and Ireland." The royal couple visited with local organizations focused on empowering young people, heard about the country's notable conservation efforts, and learned how to juggle, among other royal duties.
This isn't actually the first time Middleton has worn bangs—she also had them back in 2015, a move that she reportedly regretted. Hopefully the Duchess feels better about her current choice in bangs, because we're also definitely getting them now, and no one (no one!) will stop us.