Kate Middleton just crushed it on the cover of British Vogue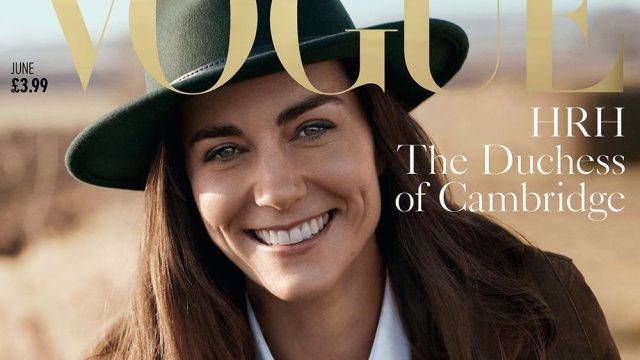 British Vogue dropped a bombshell on social media yesterday afternoon. A royal bombshell, actually. The magazine is celebrating its 100th year (!!!) with its June 2016 issue, and they just announced their centennial cover girl is none other than the Duchess of Cambridge.
While we've grown accustomed to seeing the Duchess on magazine covers pretty much every single week, her appearance in Vogue UK's 100th anniversary issue is her first ever magazine photo shoot. So this is huge, guys. Really, really huge.
Can we just say how amazing she looks? So natural and down-to-earth, which is one of the qualities we love best about Kate. According to the magazine's website, photographer Josh Olins shot the pictures in the Norfolk countryside, and they were designed to reflect her love of nature and the outdoors. Vogue UK says, "The resulting images — captured outdoors in January this year — are the most personal and natural royal portraits ever undertaken by Vogue, which has also photographed Diana, Princess of Wales, Princess Margaret, the Queen Mother, and the Queen over the past 100 years."
Vogue UK's editor-in-chief, Alexandra Shulman, went on to say, "It's a huge honour and incredibly exciting for us to have HRH The Duchess of Cambridge featuring on the cover of British Vogue and as part of our centenary issue. For me personally it has been a wonderful experience to have had the opportunity to work with her on this, and I am immensely proud of what we have produced. This special issue of the magazine is very close to my heart as it had to reflect on 100 years of British Vogue, and so I am hugely grateful that we have been able to continue with our tradition of outstanding royal portraiture with these pictures."
The magazine goes on sale in the UK on May 5th and will also be available electronically for download. Not only does Kate appear on the cover, but there's a 10-page photo shoot inside. TEN PAGES. We. Can't. Wait.
#royallyexcited