Kate Middleton has given birth to the third royal baby, and it's a boy!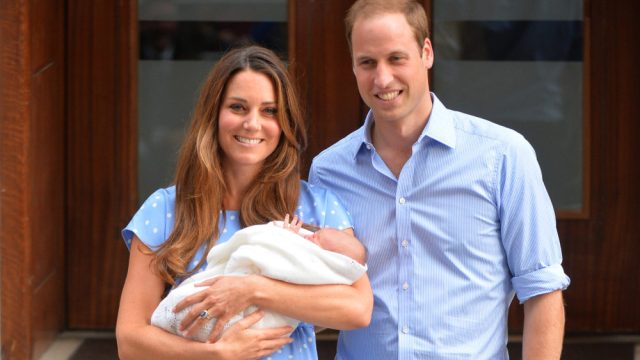 Back in September 2017, Kensington Palace made it official: Prince William and Kate Middleton were expecting their third child. We celebrated, immediately Googled Kate's pregnancy style, and began contemplating baby names. That feels like ages ago — especially considering that Kate just gave birth.
On Monday, April 23rd, 2018, Kensington Palace blew the horn and officially welcomed the third royal baby into the world. Their official statement reads:
"Her Royal Highness The Duchess of Cambridge was safely delivered of a son at 1101hrs. The baby weighs 8lbs 7oz. The Duke of Cambridge was present for the birth. Her Royal Highness and her child are both doing well."
They followed the initial statement up with an update on the rest of the royal fam:
Now, Prince George (4) and Princess Charlotte (2) have a little brother. Though we don't have a name yet, we imagine that Kate and William will pick a moniker as simple-yet-classic as the ones they chose for their first two children. (And just think of how cute this family of five will be!)
Though this is exciting news for the royal family, Kate didn't exactly have the easiest time with her third pregnancy. "As with her previous two pregnancies, The Duchess is suffering from Hyperemesis Gravidarum," Kensington Palace explained when announcing Kate's pregnancy. Hyperemesis Gravidarum is a severe form of morning sickness that is primarily characterized by vomiting and nausea. It affects one in 100 pregnant women but fortunately shouldn't have an effect on the baby's health.
Ultimately, we are thrilled for Kate, William, George, Charlotte, and the rest of the royal family. We wish them nothing but health and happiness as they add another member to their brood.