Kate McKinnon sang "Hallelujah" as Hillary Clinton on 'SNL' and there are too many reasons to cry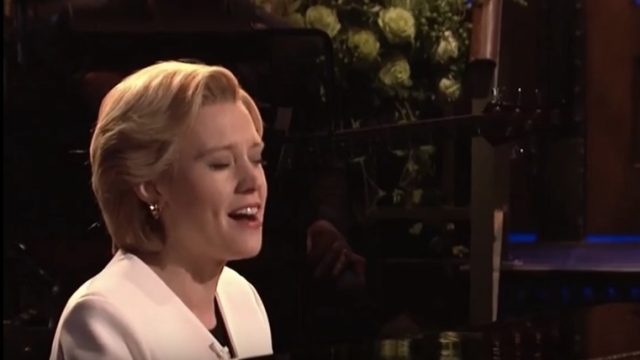 We didn't realize that Kate McKinnon singing "Hallelujah" on Saturday Night Live — while dressed as Hillary Clinton, naturally — was the exact perfect and heartbreakingly beautiful thing we needed in our lives after the unmitigated hellscape that has been election week…but it was.
Dressed in the pantsuit and sensible hairstyle we've seen her rocking as Hillary Clinton on SNL all debate season, Kate McKinnon sang "Hallelujah," an iconically haunting song written and performed by the Leonard Cohen, who died November 7 at age 82. While the song is one of the most oft-covered tunes ever (we can talk about Jeff Buckley's cover of "Hallelujah" another day because we seriously cannot stand to cry anymore right now), McKinnon's rendition, in that costume, at this moment, on that show, was so perfect and poignant that it literally hurts to watch.
https://www.youtube.com/watch?v=BG-_ZDrypec?feature=oembed
Whatever measure of hope and brightness was lost from our nation this week, it's all too starkly visible in McKinnon's teary eyes as she proclaims at the end of the song, "I haven't given up, and neither should you." Hallelujah.