Kate McKinnon learned her Australian accent for "Rough Night" thanks to podcasts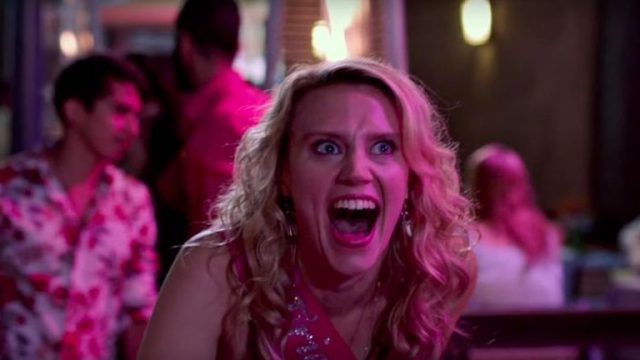 If you haven't seen a trailer for the upcoming film Rough Night, you are missing out. Not only does it star five of our favorite ladies, but Kate McKinnon rocks a perfect Australian accent in it. Though we are used to actors switching up accents in films, we have never heard this before: Kate McKinnon taught herself an Australian accent by listening to podcasts.
So innovative of her!
On the Tonight Show With Jimmy Fallon, Kate described her experience.
"I thought the best way was to listen to a bunch of podcasts. Australian podcasts. Which, I had to learn how to listen to a podcast because I never listened to a podcast before."
Adorably, Jimmy pretended to write down Kate's instructions on how to download a podcast.
"The podcast app. There's an app for that. Yeah, it's called Podcasts."
Rough Night stars Scarlett Johansson, Zoë Kravitz, Ilana Glazer, Jillian Bell, and Kate McKinnon, of course. The plot of the movie is simple and fun. On a wild night in Miami, Florida (not Vegas!), the ladies hire a male dancer for Johansson's character's bachelorette and, well, he ends up dead. (That's not funny.) The ladies then have to deal with the repercussions.
We're all for a silly movie starring these women. As Kate told Jimmy multiple times, it's a great group of ladies.
"God, we had fun. Oh my gosh, it was so fun."
Jimmy took a crack at Kate's new talent, attempting to repeat her Australian "hello" a few times. Though he was not very good at all, we're sure a few Australian podcasts will help him get there.
Rough Night comes out June 16th. Head to the theater for good fun and a great Australian accent.
https://www.youtube.com/watch?v=gP_aM6S13WM?feature=oembed