Kate Hudson sang Rihanna's "Love on the Brain," in case you forgot how incredible she is at singing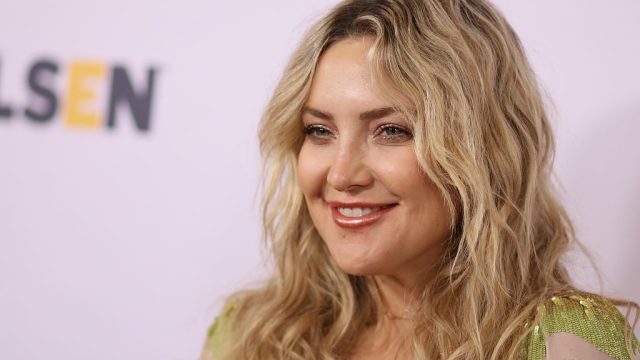 If we had to break songs down into two categories, there'd be those irresistible tunes that invite you to sing along, and then the ones that prompt you to put on a full-fledged concert in your living room like Kate Hudson, who sang Rihanna's Love on the Brain" from behind her sofa — and from the bottom of her heart.
Oh, how we wish we could've been invited to the actress' impromptu jam sesh. Singing along with Hudson to the raw, soulful track off Rih's stellar, Grammy-nominated Anti album would've made for the best Galentine's Day activity ever, but for now we're happy to take a ringside seat to Hudson's living room showdown.
In the clip the actress shared on Instagram on Valentine's Day, she *really* gets into the song, which is impossible not to do, while her son Ryder chills like this sort of thing happens all the time (which is *so* does).
"We got love on the brain and sending you all ❤'s! Happy Valentine's Day from our fam to yours 💋," the Fabletics designer captioned the post.
Love it. We totally see Hudson as the kind of bestie who is prone to bursting into song at any given moment, maybe because that's kind of what she already does.
Remember when she and Jimmy Fallon got into an off-the-cuff performance of En Vogue's "Hold On"?
https://www.youtube.com/watch?v=4HN3XZrmaTk?feature=oembed
And the time she sent us melodic Christmas wishes:
OK, so…we're with James Corden: Why isn't Kate Hudson a pop star again?
https://www.youtube.com/watch?v=8rmqmhjnfr0?feature=oembed
Back in 2015, she told the late night talk show host she's been writing songs since she was 11 and had recently been in the studio laying down tracks with DJ Samantha Ronson, but quickly dismissed her pop star future because the songs she writes are too depressing.
C'mon Kate, quit your stalling! We think we can make room on our playlists for another sad love song, especially if you're singing it.