Kate Hudson revealed acting wasn't her first career choice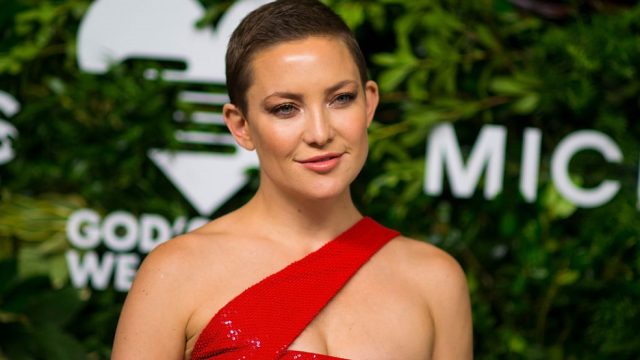 While most of us were introduced to her as Penny Lane, the "band-aid" from Almost Famous, Kate Hudson didn't always want to act. In fact, she wanted to sing.
Hudson revealed this information in the latest issue of  Net-a-Porter's digital magazine. In it, she said that her drive towards music happened to end after a few high school musicals.
"I thought music would be my route, the pop world, but I got into musicals at school and ... that was it," she said.
Even so, Hudson has been known to bust out her vocals on occasion. On Valentine's Day, Hudson treated her Instagram followers to a cover of "Love On The Brain," by Rihanna.
https://www.instagram.com/p/BQhFbGTDyCj
And just this past August, a friend posted a video of Hudson taking on "Jealous" by Labrinth.
https://www.instagram.com/p/BXwz8R6nX2J
Obviously, being an actress is another career that takes a lot of hard work. But Hudson said that she's always had drive, and wasn't pushed into the career by her movie star mom Goldie Hawn. In her eyes, "her expectations of me were never about her," which we think is solid parenting.
"I was a very focused little girl. I didn't rebel from my parents because I wanted validation from them," she said to Net-a-Porter. "I never came home with a piercing or a tattoo; I was always the designated driver. I got a bit boy-crazy in high school, but I didn't party, so I was never the coolest person in class. At the weekends, I wasn't chilling with friends; I had s*** to do! I still do. I can't not be busy."
While it would have been interesting to see how Hudson would have done in the world of pop, we're kind of glad her path lead her to acting.
 Plus, releasing an album just for the heck of it is never out of the question. If she's looking for a good angle, we'd love to hear her take on some holiday classics.