Kate Hudson's matching polka dot sleep ensemble is the most stylish way to catch some zzz's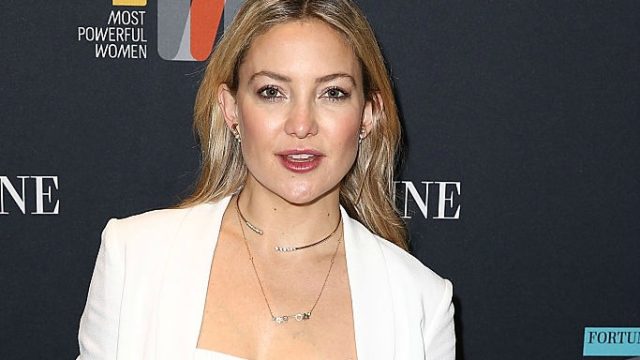 It seems like Kate Hudson is good at everything. She's a savvy businesswoman, successful actress, cool mom, and all around interesting human. Even her Instagram is awesome, and she always makes us laugh — even when's she's low-key making fun of herself. Check out her latest selfie in the cutest little polka dot jammies, ever.
She probably took 20 versions of this mirror selfie before finding the right one, and we know exactly what she's going through. The "right one," in this instance, just so happens to feature her wearing the chicest matching pajama set and her dog rolling his eyes at her selfie skills.
And Kate Hudson isn't one to pass up an opportunity to poke fun at herself. She's kind of legend at this on all her social media, and her Insta and Snapchat game is pretty epic. Just check out this silly Insta from earlier this week:
As the co-founder of Fabletics, Kate knows how to look glamorous, even when she's going for a relaxed vibe, and these adorable shorty PJs are about as chic as you can get when your next stop is bedtime. It doesn't get much more fab than this. Kate also has a glam workout look, of course. This beautiful purple outfit is part of Fabletics' Hope campaign to help breast cancer awareness.
Kate has been super busy promoting her new movie Deepwater Horizon, so she deserves a little rest, and she certainly deserves to look cute in her down time. What she doesn't deserve, however, is the shade her dog is throwing her and that major side eye.
Deepwater Horizon is now playing in theaters, and you can shop Kate's above look at Fabletics.com.