Kate Hudson let her son do her makeup and it got colorful
Sixteen years after Kate Hudson first gained acting notoriety in the cult classic Almost Famous as Penny Lane (AKA the character whose closet we'd still most like to raid in 2016), the daughter of Goldie Hawn still looks flawless 24/7 in the style, hair, and makeup department. Case in point? Even when she hits the airport, every part of her looks effortlessly chic and put together, while in contrast, the best thing I can scrounge up is a pair of jeans that fit enough for me to justify indulging in the free onboard snacks.
So imagine our (complete lack of) surprise when Hudson still looks stunning after her 5-year-old son Bing does his mom's makeup.
"Someone wants to do my makeup," she wrote on a Snapchat story before sharing video and images from she and her younger son's impromptu beauty session.
And of course, hilarity ensues. Hudson can't help herself from laughing as she records the session, while Bing confidently moves between blush, eyeshadow, and more, seemingly without missing a beat.
"I think I put too much on the brush," he says at one point, not letting that keep him from applying it to his mom's cheeks anyway.
"What is that technique? What is that?" the actress asks her son, cracking up while he applies what is probably a blush/bronzer concoction of some kind, judging by the final product, by smacking the brush against an area near his mom's ear.
He also gets creative with her eyeshadow colors, to which we say, "You go, kid. You go." Clown chic is now a thing, courtesy of Bingham Hawn Bellamy.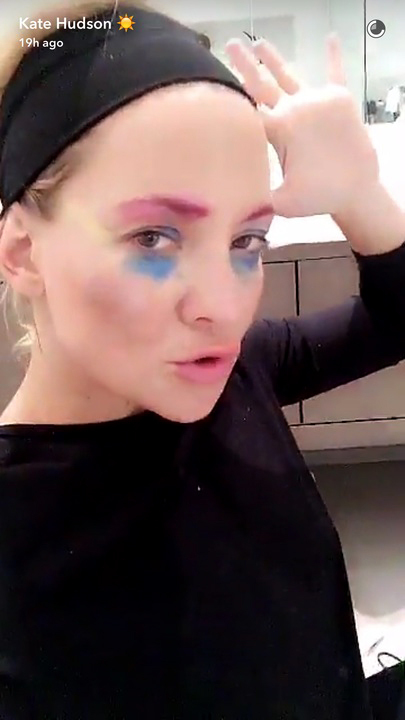 Though the final product is *probably* not a look Hudson will be wearing while gracing red carpets anytime soon, it does show that she is an amazing mom who is encouraging her son's creativity, and for that we love her. You go, Kate. More adorable snaps of Bing's artwork, please and thank you!