Kate Hudson had the best response when she was asked if her boyfriend likes her buzzcut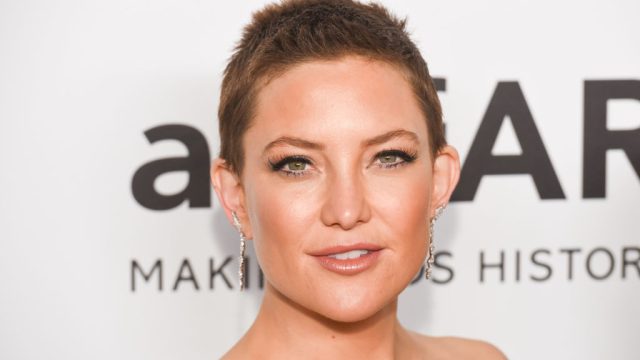 In case you missed it, Kate Hudson recently shaved her head for a role, and she looks fantastic. So we couldn't help but salute Hudson for the way she discussed her buzzcut while on The Ellen DeGeneres Show.
The style is for her upcoming appearance in Sister, a musical movie directed by Sia and co-starring Maddie Ziegler. DeGeneres kicked off the discussion by asking about Hudson's haircut, and then asking what her two sons and boyfriend think of the style.
"Your boys and the new boyfriend — everybody likes the hair? DeGeneres asked. "Because some guys don't like women with short hair.
We already know Hudon's son Ryder was somewhat irked, but only because she stole his look. Hudson earlier said that her 13-year-old told her, "Mom, you're cramping my style." After all, the two could definitely pass as twins in this photo.
https://www.instagram.com/p/BY7rCQ1AmSL
But on the topic of Hudson's new boyfriend, Danny Fujikawa, Hudson had the best answer.
"Really? I mean, I hope our relationship can transcend hair.
DeGeneres certainly meant well, but we support Hudson for showing that love is more meaningful than a haircut. She joins the likes of fellow actresses like Cara Delevingne, who also chopped off her hair for a movie and continued to rock her buzzcut with style. And of course we can't forget Millie Bobby Brown, who cut off her hair for her role as Eleven for Stranger Things.
https://www.instagram.com/p/BZaAxZ_A4WH
Hudson and DeGeneres also discussed short hair maintenance, which, contrary to popular belief, requires quite a bit of upkeep. Always one to get the crowd laughing, DeGeneres asked if it was itchy growing back, you know, "like it is everywhere else."
"I haven't gotten itchy, Hudson said. "I'm definitely starting to go through the awkward stage of it growing out. There are pieces sticking up and I have to put it down with product, so it's interesting.
https://www.youtube.com/watch?v=mQwnQS25xpE?feature=oembed
Looks amazing to us!