Kate Gosselin's kids totally calmed her down during a parasailing fiasco, and we can relate to everyone involved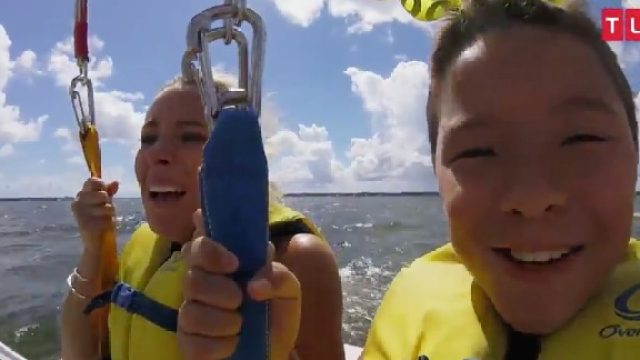 When things get scary, it's only natural to turn to our loved ones for support. Turns out reality TV stars are no different (which…totally makes sense. They're just regular old humans!).
In a sneak peek of tomorrow night's episode of TLC's Kate Plus 8, we saw Kate Gosselin's kids help her through a parasailing "situation." And if you're wondering what a "parasailing situation" is exactly, don't worry: all will be revealed (and many a tear will be shed…by Kate at least).
Kate has opened up about her support network in the past, and it was super heartwarming to see it in action — especially in the form of her kids. Seriously. Take a look:
[tempo-video id="5257661912001″ account="416418724″]
Okay, so we know it might be tempting to dismiss Kate's freak out as a little extreme. But we're not in a position to throw stones when it comes to the irrational fear department (snakes, anyone?!). So if anything, we're majorly impressed that Kate forced herself to go through with something that petrified her.
"I'm just sitting on that boat sobbing because I so wanted to do it and I was so afraid, Kate explains in the TLC clip. "That was like true fear.
But then her kids come to her rescue. Kate asks, "Aaden, will you keep me safe?" And of course, he promises he will. As the boat starts picking up, Kate starts crying again, with Aaden and his sister consoling her. "It's OK, it's OK," he says.
Awww! The kids — while clearly kind of embarrassed of their mom's freakout, were still totally there for her, helping her though each step of the way. This is all incredibly endearing, and we're super happy to see the whole family adventuring…even if one of them is kinda terrified about it.