Ryan Reynolds completely agrees that Kate Beckinsale is his doppelgänger, and we can't un-see it
Update, December 13th, 12:45 p.m. ET: Kate Beckinsale blew our collective minds back in October when she said she was convinced that she looks exactly like Ryan Reynolds. We've been staring at these two on our screens for years—how did we never see it?! But now that we're fully convinced, Reynolds is, too. And he says their doppelgänger status is something he was already aware of.
On The Today Show on December 12th, Reynolds chatted with Hoda Kotb and Craig Melvin about his uncanny resemblance to Beckinsale.
"It is like looking in a mirror," he joked. "This has been something that I've heard for a long time. Other people have said it to me as well."
Check out the side-by-side in the video from Today below and see if you agree:
Petition for a movie in which they play brother and sister!
Original post, October 22nd, 2019: Many of us claim to have celebrity doppelgängers. But did you know that some celebrities also claim to celebrity doppelgängers? Kate Beckinsale, for example, is pretty convinced that she and Ryan Reynolds have the same exact face. And we didn't believe her at first, but after seeing the evidence, we're now kind of wondering if she and Reynolds weren't separated at birth.
Beckinsale appeared on The Tonight Show Starring Jimmy Fallon earlier this week to talk about her upcoming film, Farming, and confessed that she believes she and Reynolds share an eerie likeness.
If you're unsure just how similar these two actors look, wait until you see the side-by-side Fallon showed the audience.
The longer you look at it, the more their two faces mesh into one.
"Obviously, he's not even like a sort of slightly-girly-boy-bander type," Beckinsale said. "He's like a big Canadian man and I really see myself in him."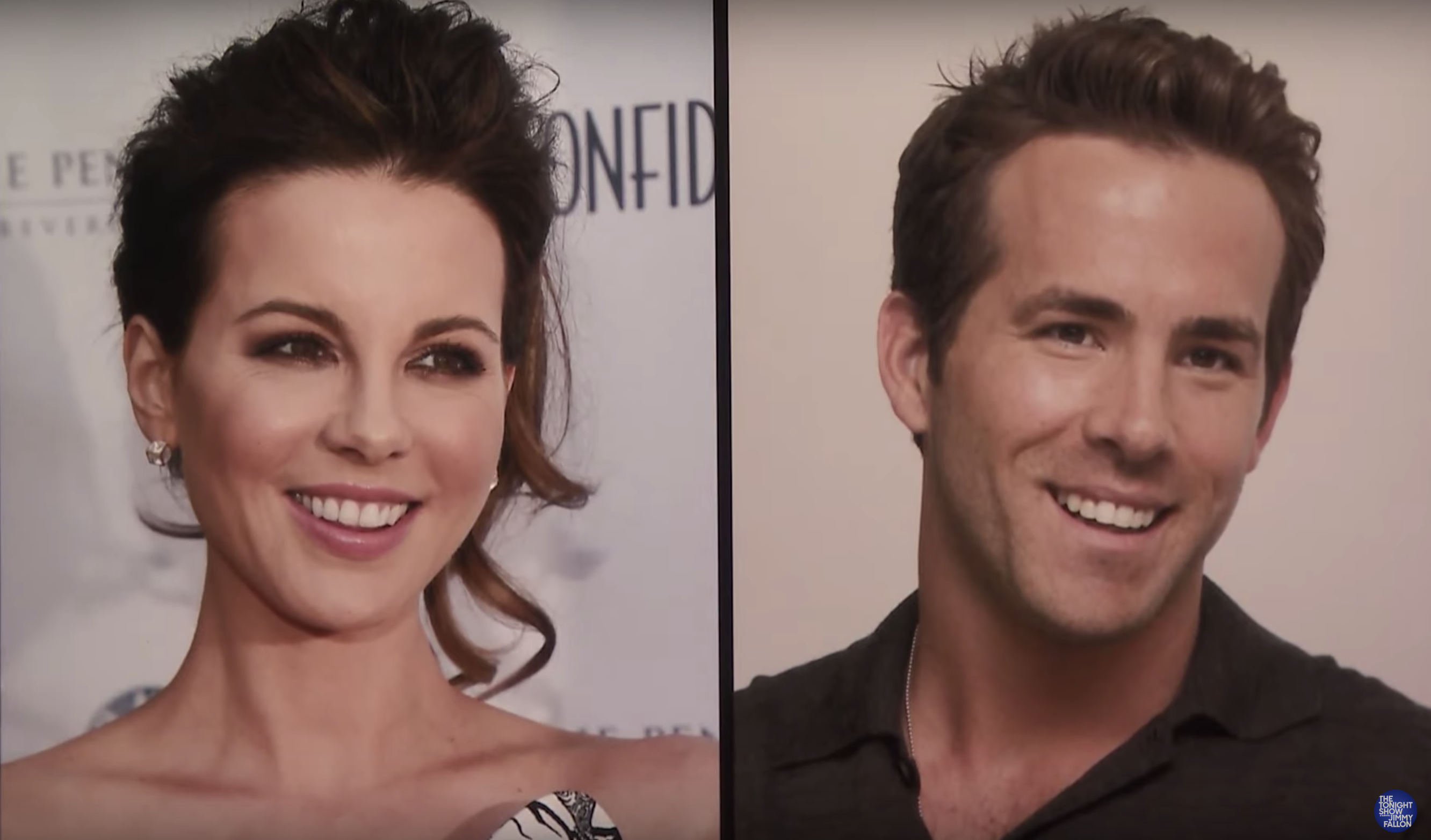 She then said that she doesn't think she and Reynolds could ever work together because one of them "would explode" if they were to appear in the same room.
Um, weird. We can't believe we've never noticed this face crossover before. But now that it's clear that Beckinsale and Reynolds are pretty much one in the same, we're advocating for them to play twins in a film together just to see what really happens when they are in the same room.