Kate Beckinsale and ex Michael Sheen all spend holidays together with their new partners aka total break-up #goals
Talk about being friendly exes! Kate Beckinsale and ex Michael Sheen spend their holidays together, with their new partners included, and it's so mature.
Beckinsale and Sheen might not be together anymore —breaking up in 2003 after eight years together — but there are no hard feelings. In fact, they spend a lot of time together, with their daughter Lily, and their new significant others. It might sound strange, but it's the definition of a modern family and we're rather impressed.
The Underworld: Blood Wars actress revealed that they actually spend all of their holidays together, because they are family.
"Well, we had Thanksgiving at his girlfriend's house (Sheen is dating Sarah Silverman) and they're having Christmas at our house," Beckinsale exclusively told Entertainment Tonight.
"We like hanging out with each other, so it's not like, 'Oh, who gets Lily?' or whatever. It's like, 'Whose house are we going to be at?'" she said.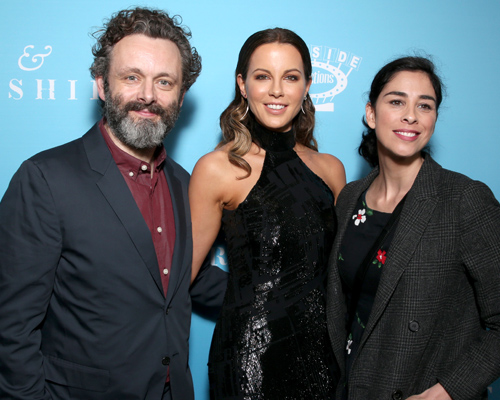 In addition to holidays with their significant others — Beckinsale is currently going through a divorce with husband Len Wiseman — the two enjoy one another's company on a regular basis. It's their friendship that the 43-year-old actress attributes to their successful co-parenting relationship.
"Well one, pick well," Beckinsale told the publication about how they got so lucky. "And two, I think we both really felt like, we really agreed on what would be the right thing for Lily. And I think, you know, not hating each other and fighting and all that would be awful for her."
She also said that the two are similar, so they don't have much to fight about anyways. "I think we've also got a really similar sense of humor, and I do find that humor can save an awful lot of things and help a lot of things," she revealed.
"I just really like him," Beckinsale admitted. "He's family. I've known him since I was 21, so he's proper family now."
This is probably one of the most mature relationships between exes ever.