Kat Von D's drool-worthy vegan shoe line launches soon, and here are the juicy details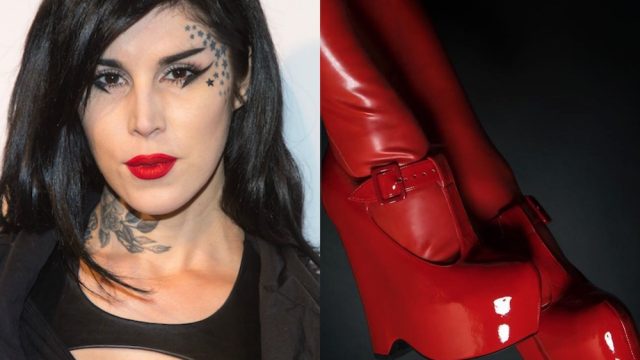 We're foaming at the mouth for Kat Von D's new vegan shoe line, and we just got more info about the launch!
Our love for Kat Von D and her creative projects knows no bounds. The tattooer and makeup maven's latest venture is a collection of shoes that are sexy AND good for animals. Kat teased the launch last year, and it looks like we'll be able to have the shoes on our feet very soon. There are 28 styles in the collection, including a pair of boots with a secret compartment for lipstick. Kat, you crazy genius, you.
The @VONDshoes Instagram account has amassed nearly 30K followers since it launched yesterday, so we know we're not the only ones quivering in anticipation. It looks like goth and rock'n'roll styles will featured heavily, with metallic and patent finishes. The entire line is 100% vegan and cruelty-free, and made by hand in Florence, Italy.
There is a selection of unisex shoes, and none of the styles will be "limited edition." Folks with harder-to-find sizes will be pleased to know that the line includes sizes five through 12. (We are stoked about the inclusivity factor.)
Kat teased the line back in August.
https://www.instagram.com/p/BWK3a_XA1H_
As for prices, Kat said, "I've worked extremely hard at making my shoes as accessible as possible without sacrificing the quality+design. These are luxe vegan shoes that will last a lifetime and will make your feet look+feel beautiful. So while they will be affordable, they won't be as cheap as Payless."
Betty Rubble goes to the goth club.
https://www.instagram.com/p/Be0yI9-ANbv
Among the 28 styles are "platforms, flats, boots, sneakers, sandals, slip-ons, creepers, winklepickers, and even a pair of furry moon boots!"
We need.
https://www.instagram.com/p/Be00mdrA_e8
We'll be sure to keep you posted on all things Kat Von D!