These Kat Von D Beauty Studded Kiss swatches prove our 2018 lipstick game is going to be out of control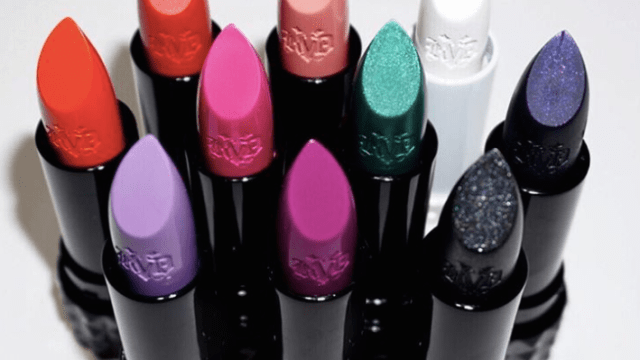 We've been waiting with bated breath for the release of Kat Von D Beauty's new Studded Kiss Creme Lipsticks — and after getting a look at some swatches, we're even more excited than ever. Your lipstick game is about to be majorly elevated.
A while back, Kat let us in on the secret that she's been working tirelessly to revamp the Studded Kiss lipstick formula. Not only is she re-doing the entire lipstick collection in this new, updated formula, but she's releasing brand new shades as well.
One of the reasons Kat has such a devoted following is because of her attention to detail and commitment to creating gorgeous, high-quality, cruelty-free products. Who else would take this time and care to reboot an entire collection for the greater good?
There will be a whopping 40 shades available in the collection, including White Out — a pure white lipstick that can be used either as a base to amp up your lipstick, as a canvas to mix and customize shades, or to be worn on its own for an incredible ice-queen statement. It's unlike anything you've ever seen before.
The Kat Von D Beauty Studded Kiss Creme Lipsticks will be available online at katvondbeauty.com on January 12th.
Tara Buenrostro, one of the members of KVD Beauty's Artistry Collective, got her hands on the new collection and demonstrated how they'll look. (Such awesome perks!)
How stunning are these shades?
You'll be able to snag these lippies online at Sephora on January 19th, and in-stores at Sephora on January 26th. After that, they'll be available internationally in 2018. Not much longer now!
The Kat Von D Beauty Studded Kiss Creme Lipsticks come in three different finishes: satin-matte, glimmer, and metallic.
The new formula means they're weightless, rich, and creamy while also being long-wearing and delivering smooth, saturated color. You won't be sacrificing comfort for true color payoff with these new lipsticks.
Be ready next month, you won't want to miss these lovely new arrivals to the KVDB family.