Kat Von D Beauty shared a sneak peek of a secret metallic makeup product
If there's anyone who always has new tricks up her sleeve, it's beauty queen Kat Von D — and now she's working on something that looks like it just might be some metallic liquid lipstick! Could there be some metallic additions headed to the Kat Von D Beauty Everlasting Liquid Lipstick collection? We are earnestly crossing our fingers and toes in the hopes that it happens!
'Tis true, we aren't certain that these mystery swatches are liquid lipsticks — they could be liquid eyeshadow or something even more surprising! But it would make sense if Kat decided to launch some metallic liquid lips, considering how incredibly popular and on-trend they are at the moment.
Nancy McGuire, VP of Product Development at Kat Von D beauty, gave us a sneak peek at the swatches that launched a thousand theories.
https://www.instagram.com/p/BTcgBLug4HN
There are wild speculations running amok on the internet, with comments on the photo running the gamut of potential beauty products. We gotta say, there are some compelling arguments here!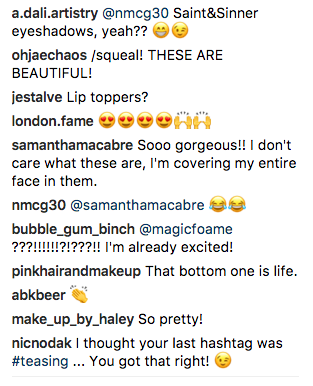 Whatever they are, we're all in agreement that they are vibrant and beautiful, and we are gonna love them!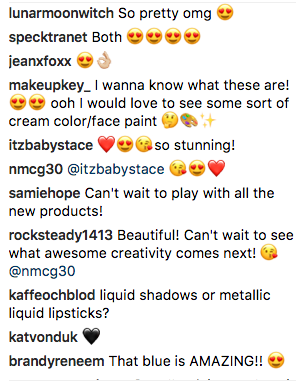 The blue and green metallic shades are both ultra-pigmented, leaving us assured that they'll look great no matter what they are or who wears them.
Nancy has become a master at giving us teases of upcoming Kat Von D Beauty products, and every time, she has us feeling like old-timey detectives with our caps and monocles, looking for clues on what could be headed our way.
https://www.instagram.com/p/BS_ea2lgo_G
These vibrant swatches from a couple weeks ago still have our hearts fluttering over the possibilities.
https://www.instagram.com/p/BRD_Fz0A0i3
And thanks to her we know that some cream formulas of our favorite contouring products are headed our way!
We will keep our eyes peeled and posted onto Nancy and all the Kat Von D Beauty team's social media pages in the hopes of finding out what these gorgeous glitter swatches could be. What are you thinking? Do our liquid lipstick theories align?