Kat Von D shares three sneak peeks from her new liquid lipstick collection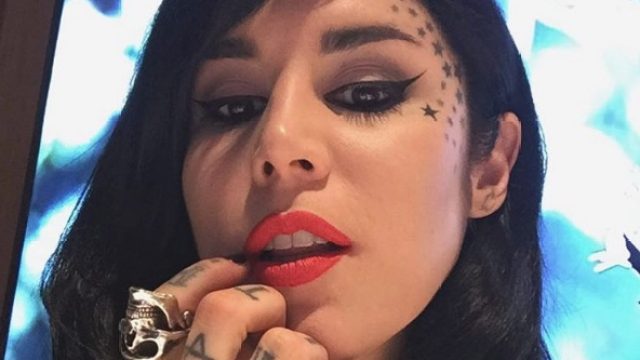 Liquid lipstick lovers, get ready. If you're a fan of Kat Von D Beauty's Everlasting Liquid Lipstick, you'll be stoked to hear that the collection will soon have 20 new shades added to it. That's right — TWENTY. The beloved lip color line currently has 28 amazing colors to choose from, and now, that total is going to almost double. Friends, you better make sure your cosmetics storage system is on point and organized.
A while back, Kat was kind enough to show us swatches from the upcoming release. This time, Kat shared a closer look at three of the upcoming colors, and asked fans for name inspiration.
As you can see, the top color is a navy hue, while the bottom is sort of a neon coral. Kat asked for suggestions on the pinkish color and we have to say, fans came up with some pretty brilliant ideas. "Pink Flamingo (after the Divine movie)," suggested one genius fan, while another proposed the name "She Devil." Other ideas included "Razorblade Romance," "Coral Carnage," and "Fairy Blood."
The third shade, called Crucifix, is a brownish, oxblood hue. So stunning!
While the Everlasting Liquid lippies are not made with any animal products, Kat recently announced plans to reformulate the entire brand so it is 100% vegan. "When I launched [the line,] I was not sober; I was not vegan yet. So I had no idea about ingredients in formulation," she told vegan lifestyle magazine Laika, according to Allure. In regards to carmine, a dye made from beetle wings that is commonly used in makeup, Kat said, "We have been reformulating anything that had carmine in the past, and if we can't reformulate them, we just throw them out. I can live without a purple eye shadow, it's fine."
The article also made mention of "a powder compact that will be launching soon, in the shape of a wax seal influenced by Von D's love for letter writing." Could that have been one of THESE mysterious products or something entirely new altogether?
A release date for the new lipstick shades has not yet been announced, but the highly anticipated Serpentina palette launched on Sephora.com today (and promptly sold out) and will be in stores on July 21st. The very slick-looking Lock-It Edge brushes will be released on July 12th.