Run, don't walk: Kat Von D just released the Saint Set for Sephora's Everlasting Flash Sale
Those of you who lost your gourds at the re-release of the Kat Von D Beauty Saint and Sinner fragrances are going to be extremely pleased when you hear about this month's Everlasting Flash Sale at Sephora. Not only does it include two sample sizes of these highly-coveted new perfumes, but it features a brand spankin' new lipstick and liner shade called Saint. The full-sized Everlasting Liquid Lipstick and Everlasting Lip Liner in Saint will only be available for 48 hours, so what are you waiting for?
The Everlasting Flash Sale takes place during the first week of the month, when for 48 hours you get a sneak peek of never-before-seen lipstick shades. Since we're all celebrating the return of the Saint + Sinner fragrance this month, this is an exclusive chance to get a hold of these cult-fave perfumes before they're widely released.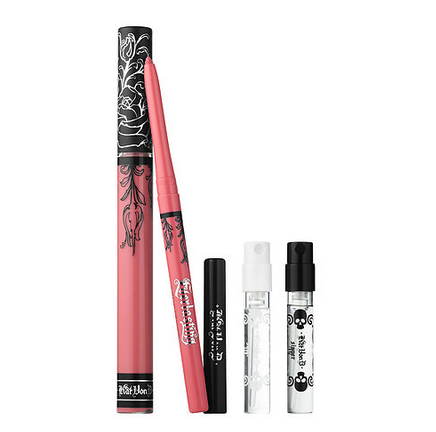 How stunning is the peachy rose shade of Saint? It's the perfect embodiment of the sweet romance of the Saint fragrance.
Part of what makes the Saint and Sinner fragrances so popular is the powerful duality of the dueling scents. Saint is light and gently alluring, with notes of vanilla, jasmine, and musk. Sinner creates a deeper, darker scent with notes of patchouli, wood, and cinnamon.
https://www.instagram.com/p/BWJeC4sFjhd
No matter how you're feeling, these two scents have you covered.
The release of the Kat Von D Beauty Everlasting Flash Sale: The Saint Set couldn't be more timely, we need that pink for our summer lips!
https://www.instagram.com/p/BWK7VjzFWqQ
It'll be sweetly delightful for daytime wear and it has just the right amount of sexy for those hot summer nights.
We fall head-over-heels in love with every Everlasting Flash sale, but there's something extra special about this one, don't you think?
https://www.instagram.com/p/BWKhK9mlPwX
It's an embarrassment of riches. We always expect a lipstick, but throwing in those fragrances are a real treat.
Head on over to Sephora to make these beauties yours. Don't delay, the clock is running out and quantities are limited. It would be a tragedy to miss out on this lovely set.