KVD Vegan Beauty's name is *not* a reference to original founder Kat Von D, according to a confusing statement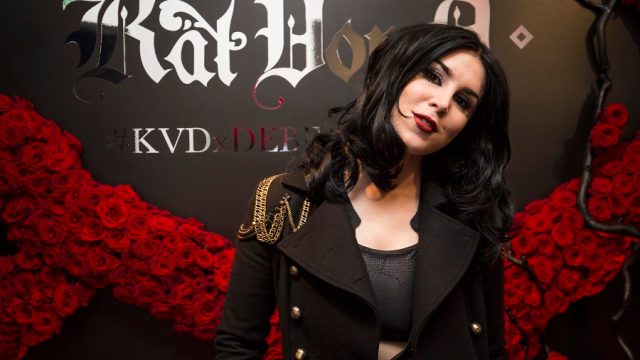 Update, January 30th, 2020, 11:12 a.m. ET: Our matte lipsticked mouths fell open when we heard that Kat Von D was leaving her namesake brand, Kat Von D Beauty. And now, the brand's parent company, Kendo (which also oversees Fenty Beauty), is giving additional information about where the makeup line will go now—including what its new name means.
On January 16th, we reported that Kat Von D Beauty would henceforth be called "KVD Vegan Beauty." Of course, it seems natural to reference the original founder, muse, and namesake. However, Kendo is making it clear that "KVD" does not stand for "Kat Von D." Say what?
"The KVD in our new name KVD Vegan Beauty stands for our ethos and new manifesto! It does NOT stand for a person's initials. We believe in Kindness, Vegan Beauty + Discovery (and Doing good). Check out our manifesto."
So, the name is "Kindness, Vegan Beauty + Discovery (and Doing good) Vegan Beauty." Officially. It makes sense that the brand is moving on from its founder as it already said that she would not be involved "in any capacity." However, the initials are still in the Kat Von D tattoo-reminiscent font. So, maybe it's more referential that Kendo wants to admit.
https://www.instagram.com/p/B72CskqH8lQ
But moving on from that, frankly, odd statement, Kendo is spilling about what we can expect from the existing, iconic makeup products. The new brand will keep the "amazing, award-winning formulas" 100% the same. Phew!
Original post, January 16th, 2020: Beauty lovers, you're about to see a major change in the Sephora aisles. After 12 years at the helm, Kat Von D announced that she's leaving her eponymous makeup brand and has sold her remaining shares to Kendo, the brand's parent company. In an official press release, Refinery29 reports, Kendo confirmed that Von D "will no longer be involved with the brand 'in any capacity,'" and the brand will be renamed KVD Vegan Beauty. Kat Von D Beauty has already updated its website to reflect the shift in ownership.
The tattooist-turned-entrepreneur took to her Instagram to announce the news to her followers. She wrote that "this past year has been one of great change for me," and ultimately decided to step away from her makeup brand to focus on new projects, including her vegan shoe line, her forthcoming album, and an international tour. She's also prioritizing her son, Leafar, to whom she gave birth in November 2018.
"As much as I wish I could balance all of this, on top of continuing my makeup line, it has become clear to me that I just can't do everything at the maximum capacity, she wrote. "It's hard to admit this, since I've always said "You can do everything and anything. But I don't think admitting one's limits is a bad thing.
https://www.instagram.com/p/B7YyvmKlOSu
During her tenure as Kat Von D Beauty's leader, Von D turned her company into one of Sephora's most successful brands—a win for both women entrepreneurs and for vegan and cruelty-free beauty.
Kat Von D wasn't just extremely involved in creating and promoting her makeup products; the entire brand identity was inspired by her personal style. According to LVMH's website, a "Sephora beauty authority" approached Von D about creating a makeup line after she saw beauty lovers imitating Von D's iconic red lip and winged eyeliner. Her now-iconic Studded Kiss Creme lipstick (which our editors adore) was designed to mimic the tattoo artist's favorite studded cuff bracelet. Von D has always been both a savvy entrepreneur and ultimately her own brand's number-one muse.
But Von D has also drawn her fair share of controversy, most notably allegations that she's anti-Semitic and an anti-vaxxer. She released a YouTube video denying those allegations, but a wave of Von D's former fans boycotted her products in response.
In her announcement, Von D only expressed gratitude for her fans, without whom, she says, "I just couldn't have done any of this."
"I'd like to thank my beloved fans+followers who supported my vision to create a brand that stood for compassion, true artistry, and challenged modern ideals of beauty—most of which I never could relate to," she wrote. "I was able to create a makeup line that made outsiders like me feel like we have a place in this 'beauty' world, and gave myself and others the tools to express ourselves in our own unique way, whether it was embraced by the majority or not.
As KVD Vegan Beauty, the brand will continue Von D's commitment to producing vegan, cruelty-free, high-performing beauty products. It'll keep manufacturing Kat Von D's existing range—including cult-favorites Tattoo Liner and Lock-It Tattoo Foundation—and, starting this year, it will also develop and release brand-new products. We'll be keeping tabs on KVD Vegan Beauty's growth and evolution.