Kat Von D just dropped some major deets on an upcoming eyeshadow palette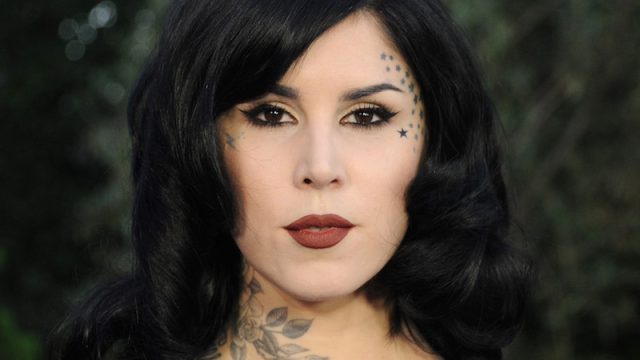 When we hear there's a Saint and Sinner Kat Von D eye shadow pallette coming out, and that she has graciously given us a behind-the-scenes look on the naming process, all we can do is thank the heavens for our good fortune! And from the looks of it, the heavens appear to be the inspiration for her Saint and Sinner palette! We know we can count on Kat for boundlessly creative products and names  — it's a huge part of her brand's appeal! Not only are they excellent beauty products to begin with, but every detail from the packaging to the naming is also imbued with her creative, gothic spirit!
Kat revealed the naming list for the upcoming palette and it's every bit as on brand as you would have thought.
https://www.instagram.com/p/BMes96ohTC1
How cool are all those names? We're having a field day trying to figure out what possible colors could correspond with them. It looks like Piaf knows, but he won't tell us!
We are loving that the shades were all inspired by a stained-glass window that Kat saw in a cathedral. So we know we can expect some bright reds, blues, and greens. It just goes to show that inspiration can truly come from anywhere!
It's fun to think about the fact that every single beauty product that exists was named by someone out there who just had to sit down and come up with original names. Someone's gotta do it! And we love that Kat finds it meaningful to do it herself.
The palette is being launched in tandem with the re-launch of her Saint and Sinner perfumes in 2017, so finally, our witchy collections will be complete!
https://www.instagram.com/p/BL82FY0hCGB
Between this and waiting for all her other new products and collaborations to be released, Kat has got us all on tenterhooks! Doesn't she know we need it all now?!
https://www.instagram.com/p/BMUort6BRbv
Keep your eyes peeled for this one — or really any information that Kat decides to treat us to. Lucky for us, she's very generous with little teasers and giving us behind-the-scenes scoops. No complaining here!