Kat Von D is working some serious "Lady in Red" vibes in this Insta photo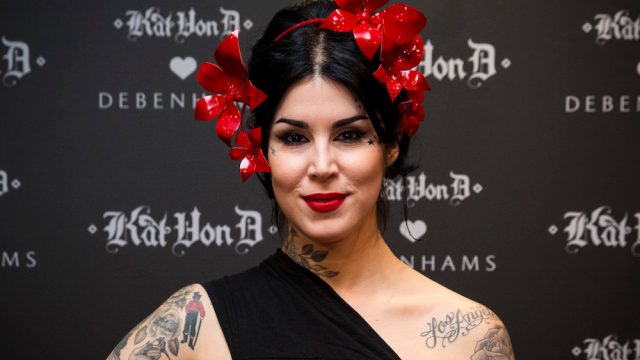 Do you remember those iconic Weight Watchers "Smart Ones" commercials that showcased a woman in a flattering red dress spinning to the Chris de Burgh song "Lady in Red" with the freeing knowledge of her own sexual power? Well, the cosmetics queen and talented tattooist Kat Von D is channeling "Lady in Red" vibes in her most recent Instagram photo, and we are loving the bold sensual look she's giving off.
First off, if you haven't found yourself swaying while singing the ridiculous lyrics to "Lady in Red," please Google it immediately so your personal world can open up into a brighter and more ridiculous place. Also, you'll appreciate Kat Von D's fashion choices even more with this tune playing in the back of your brain.
Even if she wasn't channeling the vibes of the iconic "Lady in Red" vibe, we would still want to know where she found that amazing shirt, dress, or whatever that gorgeous top is.
In the photo's caption, she says she's wearing Santa Sangre, one of her top-selling liquid lipsticks.
https://www.instagram.com/p/BBQ3V2KRa2Q
Her terrifyingly small dog is also in on the fiery color scheme.
She appears to be 100% committed to the red streak lately, as detailed by this shot of her pants, shoes, and toenails.
Here we get a nice view of our favorite Lady in Red with a purple cow, which is like a color coordinated acid trip.
https://www.instagram.com/p/BL86a4Chgsm
Finally, for those who need the reference — here is the iconic commercial.
We would buy any pizza Kristy Yamaguchi wants to sell us.