Kat Von D teases that she could possibly be designing home decor in the future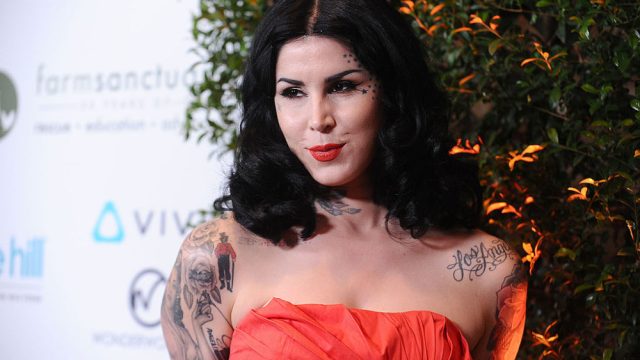 When we think of how many talents Kat Von D has already harnessed, it's hardly surprising when the makeup artist hints that she could be designing home decor in the near future. We can only imagine all of the rich color possibilities that would come from the same brain that birthed the Everlasting Obsession Liquid Lipstick Set. Just think about all of the cool artistic patterns she'd create. Kat is so talented that she could also possibly surprise us with a bright and monochromatic look just like her mesmerizing Alchemist palette, or maybe some serious Lady In Red vibes. With Kat, we know whatever she creates will have an amazing color scheme
Whether or not she chooses to go forward and gift the world with a Kat Von D home decor collection, the woman who thought up the popular Shade + Light Contour palette, would be sure to draw an immediate following of devoted decorators.
She made the teasing post on Instagram on Thursday, revealing her own bright red hand drawn wallpaper. Is this a foreshadowing? We can at least fantasize.
If she did come out with a line of home decor, we could safely count on lots of dramatic reds, given her inspiration.
If only cats could talk, we could harness all the predictions and secrets from Kat Von D's two loyal hairless Sphynx cats.
Realistically, they don't look ready to share any information with us.
We'll just have to wait and see if this is a passing tease or a preview of Kat Von D wallpaper to come.