Kat Von D finally shows us what's inside the Everlasting Obsession Liquid Lipstick Set on Snapchat
After teasing fans for weeks (even months) with fleeting sneak peeks of new lipstick shades, today Kat Von D revealed comprehensive swatches of the much-anticipated Everlasting Obsession Lipstick Liquid Set on Snapchat, and the colors are as bright and delicious as you would imagine. The collection looks like the most delectable gelato spread you could imagine.
I want to smear my face in these colors until I turn into a gorgeous raspberry queen who graciously rules over a land of peaceful fruit.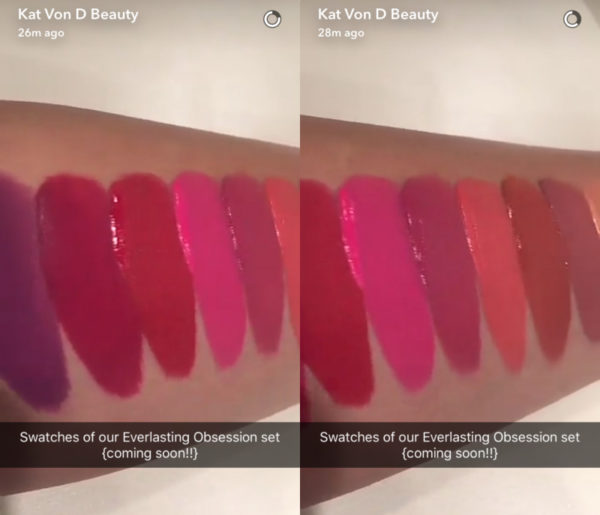 FEAST YOUR EYES ON THIS GORGEOUSNESS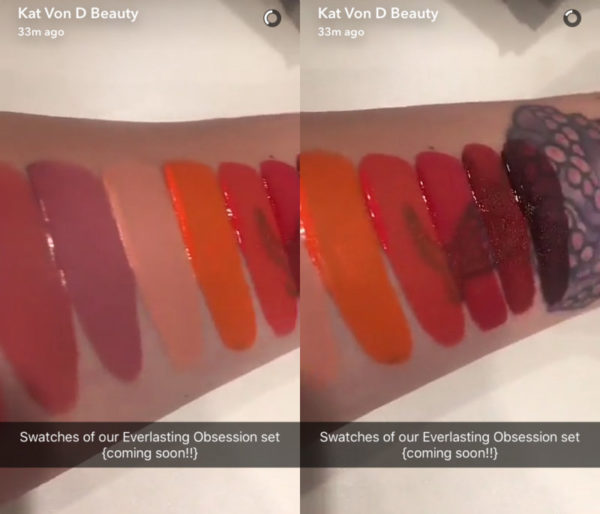 My updated version of the game "Would You Rather" is now going to be asking people which Kat Von D swatch they'd rather eat or wear on their lips during a night out, because honestly both options sound equally appetizing although consuming the swatches will end in a way less sexy or picture-ready night.
https://www.instagram.com/p/BHVq-7-BGQT
Some fans have speculated that the previous peeks at mysterious packaging will be containing the Everlasting Obsession line.
Any of these would seriously be amazing
https://www.instagram.com/p/BH5jwO1B0Mp
https://www.instagram.com/p/BH5jMZ9BzzH
Kat Von D has previewed a few of the upcoming lip shades while generously inviting fans to name them, and just yesterday she teased us with Snapchats of Studded Kiss lip shades. Her gradual build-up of reveals makes this recent swatch unveiling even more exciting — after all, this might mean the new Everlasting Obsession Liquid Lipstick line will actually be available for purchase soon!
https://www.instagram.com/p/BHaLh4dhlEJ
Until she replaces the "Coming Soon" caption with a link titled "Buy Here" we'll have to make do with gazing at the Snapchats longingly, counting the hours until she gifts us with the new line.