Kat Von D revealed the custom lipstick she and her husband created for their wedding, but it won't be for sale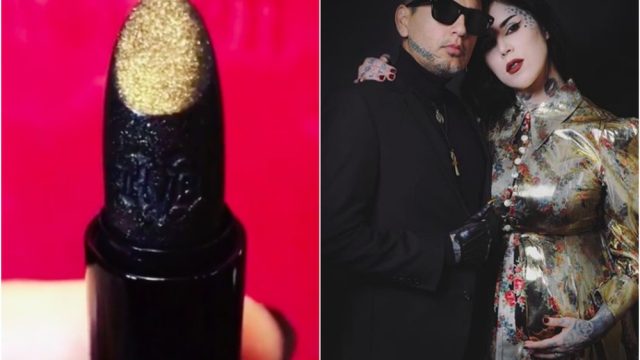 Kat Von D continues to surprise us with her gorgeous, high-quality beauty products, from the brand's unique packaging that Kat hand-draws herself, to her fight against animal testing. What's there not to love? Well, we're giving you another reason to love her, because our beloved Kat Von D revealed the dazzling lipstick she created with her husband.
Earlier this month, HelloGiggles got the scoop that Kat Von D created a special lipstick with her husband (and Prayers band member) Leafar Sayer. The beauty mogul told us how Leafer was the one who came up with the idea for them to create a lipstick together. She said:
The two newlyweds are having a great 2018 so far. Not only did they tie the knot back in February (and are planning their upcoming wedding ceremony), but the beauty mogul recently announced that she and her husband are expecting a baby boy. They have a name picked out and everything. So it only makes sense that their next venture together would be to create a black and gold shimmer lipstick.
Kat Von D revealed the lipstick on Instagram.
https://www.instagram.com/p/BjIa7fJnMir
In Kat's Instagram post, she also shared a heartfelt message:
As a side note, we love that Kat played Björk's song "Pagan Poetry" from the 2001 album Vespertine while showing off the shimmer lipstick. Totally fitting.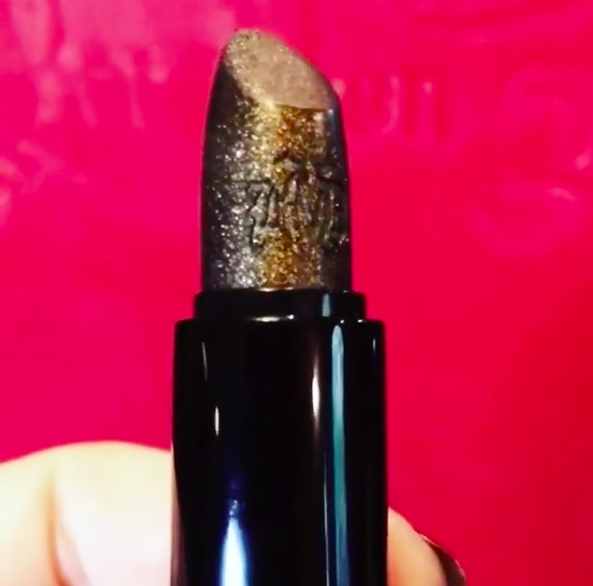 The lipstick package is just as unique, as it features the words, "En vida y en muerte," which translates to "In life and in death."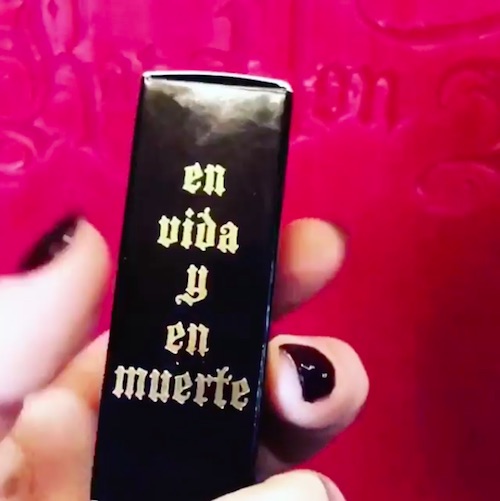 We're guessing that this is also the name of the shade, as it's something that Kat and Leafar seem to say to each other often. Could this also be their wedding hashtag? It all seems likely, considering that they use it on many of their Instagram photos together.
The shade also matches their wedding invite.
https://www.instagram.com/p/BhH8m2IguRK
Of course, no detail would go unnoticed. The other side of the package has a sweet message for the Kat Von D Beauty team, which reads: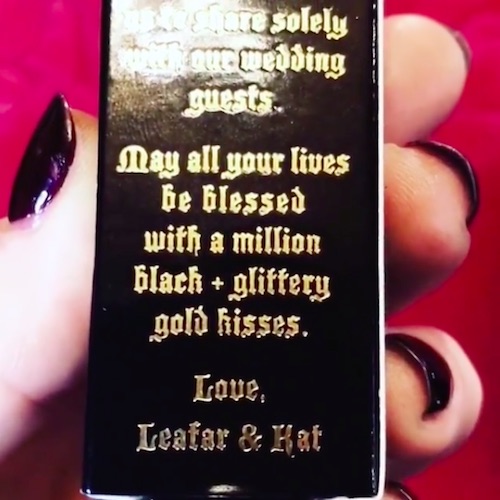 Kat Von D swatched the lipstick for her fans on Instagram Stories, because she knows that's what we all want to see!
We're sad that this unique black lipstick with gold glitter won't be for sale, but it's sweet that Kat and Leafer are giving something meaningful to their wedding guests. It just melts our hearts.
https://www.instagram.com/p/BiiCLx0Bnn6
(Although, Kat if you're reading this, please reconsider or send us an invite to your wedding! Just kidding, kind of.)