Kat Von D talks to us about her ultimate brow icon and the most surprising thing she collects
Chances are that if you're a Kat Von D Beauty fan, you've been waiting with bated breath for the brand to drop a brow collection. Hey, it's only natural for us to want to complete our KVD Beauty-inspired winged eyeliner and bright, bold lip with a fierce brow. Well, brace yourself, because the Kat Von D Beauty Brow Collection is finally here. While KVD has already spoiled us to the core this year with incredible releases like the Divine Collection, the rebooted and reformulated Studded Kiss line, and killer new Everlasting Liquid Lipsticks (like the extraterrestrial green Plan 9), the Brow Collection is particularly fire.
There's the 24-HR Super Brow Long-Wear Pomade, with 16 shades that will literally stay on through an intense workout (Kat tested the purple one during a Barry's Bootcamp class), the Brow Struck Dimension Powder, the Signature Brow Precision Pencil, and two brow brushes. All of the items are available today on KatVonDBeauty.com, Sephora.com, and Sephora stores.
We caught up with Kat at the Brow Collection's LA launch, where she talked about brow icons, what she learned in the past 10 years of being in the beauty industry, plus her upcoming vegan shoe line.
https://www.instagram.com/p/BgFfTsxHkt0
HelloGiggles: Which of the brow products from your collection do you use daily?
Kat Von D: I like using the Super Brow formula. That's my favorite because you can build on it. You can make it as opaque as you want or you can make it natural. Obviously like super blacked-out brows. And I like using the brush that goes with it.
https://www.instagram.com/p/BhwxpDvnqFU
HG: Who do you consider the ultimate eyebrows icon?
KVD: In the 20s and 40s the Latin woman was a hero. She was a fire warrior. So, probably just Latin women…and Siouxsie and the Banshees. I think that the furrowed, strong brow has always been something that I looked up to. I've never been afraid of a strong, dark brow and now people are really getting into fuller brows.
https://www.instagram.com/p/Bf1UrAOHkrJ
HG: Will you do any more pop culture icon-inspired releases like the Divine collection?
KVD: Yeah. I've been a huge Divine fan for so long and it felt like that collection was a symbol of a lot more than just Divine. I hope we did a good job at that. I think most brands have marketing strategies about what celebrity to do and we don't do that. We just create as we go. I really want to start doing more artist series, but not having to do so much with makeup. There will be a makeup product but inspired by art, because the artistry collective and I are inspired by painters and artists and designers outside of the makeup world. And I think that that's important because it's not regurgitating the same inspiration over and over again.
HG: I'm still hoping you do an Alejandro Jodorowsky one.
KVD: Oh my god, I would love that. I've named so many shades after every fucking movie. I don't know if he necessarily even likes makeup. I've never met him but I would hope he would like me.
https://www.instagram.com/p/Bf1nxkuHOvV
HG: Congratulations on the 10-year anniversary. What's the biggest thing you've learned in the past decade?
KVD: I think that the biggest, best lesson ever is just becoming sober, because I know I wouldn't be here if I wasn't. As far as makeup stuff, I think that the industry is always evolving and I struggle with that. I have a hard time rolling with the punches so I think that's just a constant learning for me. There'll be years where everything is great and I feel like I have a grip on things and then the next year I don't know what is happening in the world. But it doesn't stop me from creating the way that I create. I don't know if it's a Pisces thing, but I kind of go back and forth. I question everything I do, I want it to be for a good cause and sometimes it can get really worrisome. I get in my mind a lot about how much being involved in the beauty industry goes against a lot of the things that I stand for. So, I try my best to create things that are more artful-minded and be okay with not doing what everyone else is expecting. I don't think that's always a good thing for a business, but I'm okay with it. I don't give a fuck.
I think my biggest nightmare would be if someone came and looked at my makeup line and thought that they needed it in order to be beautiful. That would make me heartbroken. And it's a hard line to walk because it's makeup. Not everybody has the punk rock mentality that I do. I'm not insecure about things. I'm not embarrassed about stuff. I think for some people, makeup can cause a lot of insecurities and you'll see it on social media a lot. It's a fine line. I struggle with that and I wish I had figured that lesson out. I'm constantly trying to learn it.
https://www.instagram.com/p/BhZ-amcn48Y
HG: Is there anything from the collection early on that you kind of want to bring back or revamp?
KVD: Oh, all the time. People get really bummed out when we have the limited-edition stuff but I think what they don't understand is that I have an exclusivity with Sephora. So I'm a little bit at the beck and call of the size of our display at Sephora stores. There's definitely a few palettes that I'd like to bring back or even just shades from specific palettes that I really loved. One of my very first palettes was called the Metal Orchestra palette and it was all silver-blues. It was all cool tones but then they had one metallic cream formula that you could use for whatever. But we didn't have our component right yet so it would dry out after a couple of months and we didn't know. We're always learning and making things better. I think eventually I'll be able to look back at all of the collections and maybe pick and choose from them and bring one giant one back together. For now, I'm just kind of happy creating the new stuff.
https://www.instagram.com/p/BhZ3j3tnYi7
HG: Is there a release date for your vegan shoe line yet?
KVD: November. I finally got the first round of prototypes, which is good because then I can start photographing them and doing things like that. I'm excited about just finding all of these innovative substitutes for animal-based fabrics — especially when it comes to leather. We found a small little mom-and-pop manufacturer in Italy that makes leather out of pressed apples, and it ages just like leather. I'm pretty excited about what we did with the makeup line, which was to show people that you can create cruelty-free products without using animal-based products or ingredients and they perform just as well, if not better.
https://www.instagram.com/p/Bhb1jTYgg-5
HG: Do you think you'll ever come out with bags or any other accessories?
KVD: Most definitely. Right now the factory that I work with in Florence, Italy is just a shoe factory, but they are expanding into wallets, bags, and belts. Bags are a little bit easier to make vegan, but it's so impossible to find good belts. I think that will be the next step, for sure. But launching with 29 unique shoe styles is a big monster to attack first, so I'm going to focus on that.
HG: 29 is so great.
KVD: I want to make sure that I launch with something for everybody because I think people assume that I wear high heels and not everybody does. I don't want people to think that I only make high heels. In order to hit every different style of shoe, including unisex, I want to launch in a big way.
https://www.instagram.com/p/BhxOzvfnMr6
HG: If you could describe yourself as the love child of two people, who would it be?
KVD: I would say Vampira [Maila Nurmi] and Friedrich Nietzsche.
HG: Oh my god. That's amazing.
KVD: I don't want it to come off like I'm flattering myself, but I feel like they would totally get along. I loved Maila's style and aesthetic and philosophy on life, and then obviously Nietzsche is my favorite philosopher. He was so intelligent and such a troubled man.
https://www.instagram.com/p/Bejlh1_niiA
HG: What is something that you collect that would surprise most people?
KVD: I collect bibles, although I'm not religious. Antique bibles. I collect nuns. I love nuns a lot. I was always fascinated. I thought they were really weird when I was younger. Oh, who would be married to Christ? That's silly. And then I went and stayed at a monastery and it really changed my perspective on nuns. I have such a big respect now. The idea of dedicating oneself to something solely is really unique and admirable. I look at nuns the same way that I perceive Michelangelo or Beethoven, who died dedicating themselves to something. I love that passion and that loyalty.
24-HR Super Brow Long-Wear Pomade
Brow Struck Dimension Powder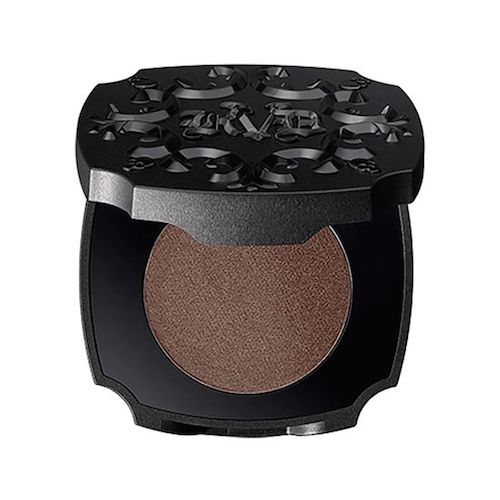 Signature Brow Precision Pencil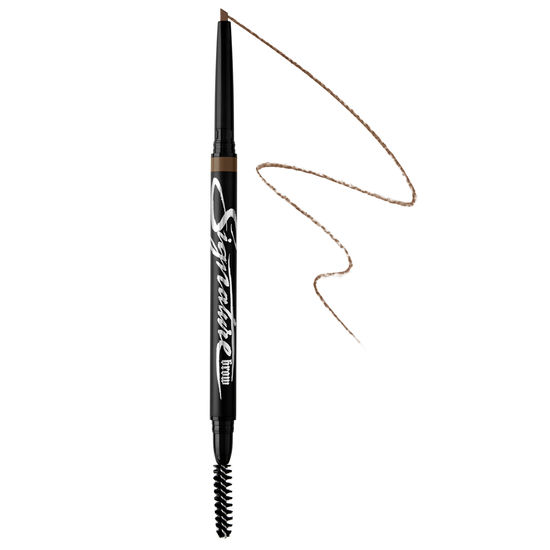 #70 Pomade Brow Brush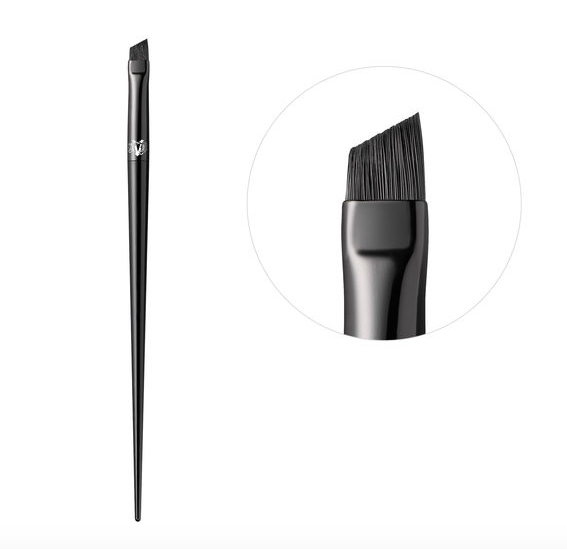 Shop the entire collection, here.