Kat Von D hinted that her next beauty launch might be matte eyeliners in bright colors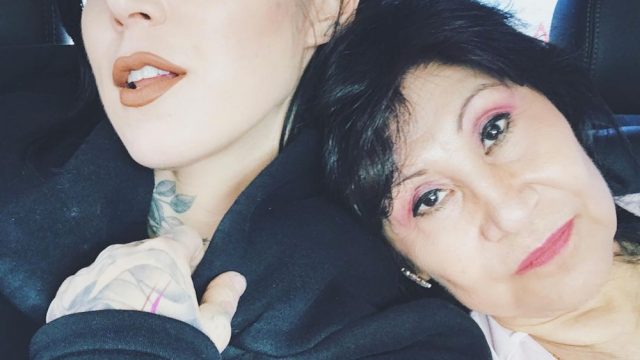 Our beauty detective caps are always on, as the search for clues as to what kind of new products are headed our way is practically a full-time job. Kat Von D recently hinted that her launch of the upcoming Kat Von D Beauty Inkwell Matte Liquid Liners will include colored eyeliners. Vibrant eye-makeup lovers, rejoice.
Back in July, Kat started giving us more details on this highly-anticipated matte liquid eyeliner collection. Her current liners are cult-faves that set the standard, so we can only imagine how game-changing these new matte liquid liners will be.
An eagle-eyed fan spotted some violet swatches on Kat Von D's latest Instagram and quickly asked her what they were for.
Look at those cuties! Can you spy the swatches?
What do you make of Kat's response?

We can't decide what's more exciting: the fact that the Inkwell Matte Liquid Liners will be upon us soon or that there will be multiple color options to choose from. While this isn't the first time Kat has released colored eyeliners, it will be interesting to test out her new matte formula with different shades! Can't you just see yourself pairing that violet liner with an equally stunning Everlasting Liquid Lipstick? The opportunity for new combinations will be endless.
We're still waiting on an official release date for Kat Von D Beauty's Inkwell Matte Liquid Liners, but fingers crossed it's soon.
https://www.instagram.com/p/BXD59o3lXVc
We already know violet is part of the collection, and we can't wait to hear what other shades will be available.