Kat Von D Beauty teased the new Saint and Sinner eyeshadow palette, and OMG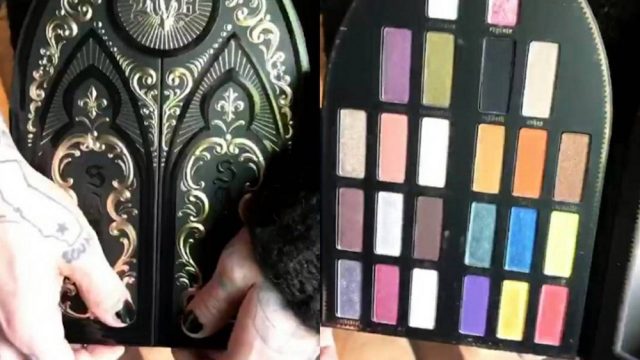 We could talk for days about the artistry that goes into Kat Von D's products and packaging. She truly goes above and beyond and it shows in her brand's incredible products. Getting any info about upcoming makeup from her is incredibly exciting, but we can honestly say there's nothing quite like Kat Von D Beauty's new Saint and Sinner palette! It's absolutely gorgeous.
Kat's background in art and tattooing always influences her work, but it's when we see something as creative and detail-oriented as this palette that you can truly see the scope of her talent. It's a real-deal work of art!
The Saint and Sinner eyeshadow palette features 24 stunning shades that are going to be highly-coveted once released!
https://www.instagram.com/p/BR_82iVgdY-
This cathedral-like packaging is incredibly epic. Kat's ever-present romantic, gothic style has never been more apparent than in this lovely palette!
We don't have too much information yet on when the palette is being launched or how much it's gonna cost, but we have a feeling it's going to be pretty soon since it's far along on the stage of development. Or maybe that's just wishful thinking!
We can't wait for even more sneak peeks and to start seeing looks come out from the lucky few who get advanced releases. With this many shades in a single compact, there are bound to be an endless amount of beauty possibilities!
Are you as smitten with this palette as we are? The gorgeous packaging combined with this wide, vibrant shade range and Kat's impeccable formula and taste has us chomping at the bit for more info and a quick release! This beauty definitely won't disappoint.