Kat Von D Beauty is releasing a pumpkin-colored lipstick for all of your Halloween needs
It's officially October, which means we are totally immersing ourselves in the spooky season with full abandon. This obviously includes all our beauty and makeup needs, so it's perfect timing that Kat Von D is releasing a pumpkin-colored lipstick very soon. Who better than our goth makeup queen to give us a Halloween treat just in time for our favorite holiday?
While we love embracing our dark side in October, there are lots of ways to creatively express ourselves during the season that doesn't just involve dark lipstick. Whether you prefer a bright color or want to try something a bit zanier, an orange lipstick captures the essence of October beautifully, and it couldn't be more gorgeous.
Fingers crossed the new pumpkin-colored lipstick comes out soon.
https://www.instagram.com/p/BZr5WyOnWOE
Ombre look or no, we can already tell this lipstick is absolutely stunning.
We love how subtly orange it is, firey with a hint of red. It'll be super flattering on all skin tones — we need details on its release as soon as possible. Fans are thrilled, and one asked if it was going to be part of this month's Everlasting Flash Sale. Fingers crossed it is!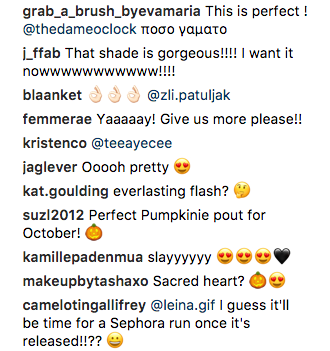 Til we get more info, we'll just have to enjoy Kat Von D Beauty's many other spooktacular lipstick options.
https://www.instagram.com/p/BZgwoZWnLEH
https://www.instagram.com/p/BZcKM5VHe_K
https://www.instagram.com/p/BZW_or7H09E
https://www.instagram.com/p/BY87J7DH3pn
The options are truly endless thanks to KVDB's wide array of shades.
Keep those eyes peeled for more information on this upcoming autumnal new lipstick.