Kat Von D Beauty hinted they're coming out with glitter lipsticks, and we are losing our minds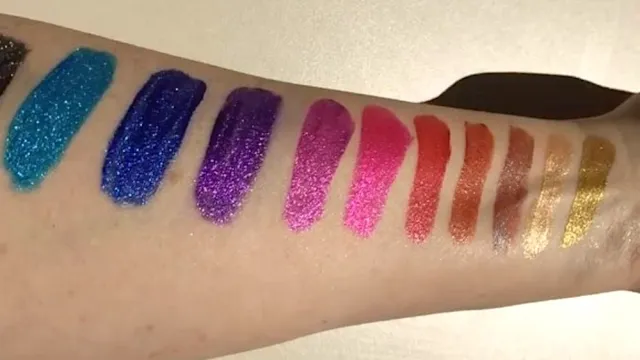 Slowly but surely, the good people over at Kat Von D Beauty have been giving us glimpses into an upcoming line of shimmery makeup without revealing too many details about what it could be. Earlier today, their VP of Product Development, Nancy McGuire, showed us some gorgeous, glimmering swatches and they are so radiant we don't know what to do with ourselves.
Nancy all but confirmed that these are part of a lipstick collection of rainbow-hued glitter lipsticks, and now the countdown begins until we can try this stunning line for ourselves. The shades just couldn't be more vibrant if they tried.
We can only assume that Kat Von D Beauty has at least 11 shimmer lipsticks coming our way in the near future.
https://www.instagram.com/p/BVH9ez8gbxh
Now the question is, will they be liquid lipsticks and part of the Everlasting line or are they an entirely different formula and collection? From just looking at them, they do appear to be a similar consistency to liquid lipsticks, but we're going to have to wait for further confirmation on that one.
https://www.instagram.com/p/BVA_erPguxU
Kat and her team gave us a look at new blue lipstick a few months back, and it looks like it's exactly the same lipstick that appears in the swatches.
https://www.instagram.com/p/BQllcsPgE3z
It doesn't get much more glam than that! Can you imagine stepping out this summer with this bold lip look?
Now we just have to sit back and wait for the team at Kat Von D Beauty to bless us with more information and hopefully there's a summer release date for these shimmery lipsticks.
https://www.instagram.com/p/BQBmPxrjdGP
We can't get over how highly pigmented and glimmery they are. They look like they could be mermaid scales, don't you think?
We'll be doing some deep internet stalking all weekend in the hopes of getting more information on these gorgeous swatches. They'd be especially perfect for pride month, but it might be asking too much for them to roll out in the next couple of weeks. Either way, we're jazzed.