Kat Von D Beauty teased the new Shade and Light Glimmer eyeshadow palette, and OMG
While we hang on for every production sneak peek from brands like Too Faced and Storybook Cosmetics, we have a new makeup tease from Kat Von D Beauty — who never fails to surprise us. Kat Von D shares her upcoming products when they are almost complete, like the four new liquid lipstick shades she posted last week, The Farm Sanctuary collection. Today was no different, with an all-new sneak peek of the Glimmer eyeshadow palette!
The Kat Von D Glimmer palette is beyond stunning.
https://www.instagram.com/p/BUZ9aFrFp3I
The new Glimmer palette will feature shimmering version of the 12 Shade and Light Contour palette colors. This is great news if you already have the Shade and Light palette because the two products will mix and match perfectly to create endless lewks.
https://www.instagram.com/p/BPGV90OBOpZ
The palette is set to launch this July, which seems far away, but it's right around the corner. Between a cream version of the face contour palette, and a shimmer version of the eye contour palette, we love that Kat continues to expand her product lines.
KVD Beauty fans have heart-eyes over the new palette and so do we! This is definitely going to be a summer staple palette that we can wear well into fall. We're already dreaming up different versions of shimmering smoky eyes.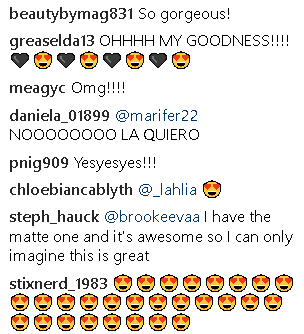 If you haven't already snagged your own Shade & Light Eye Contour Palette ($48), we totally recommend it. Who doesn't want to round out their collection?
Paired with a solid black liner, it totally makes any eyes pop.
https://www.instagram.com/p/BUZkz2jFIs9
We are so excited to try shimmery versions of our favorite neutrals in the Glimmer eyeshadow palette. We are sure Kat will release an exact date and price soon, so stay tuned!