Kat Von D Beauty revealed the new Farm Sanctuary lipstick collection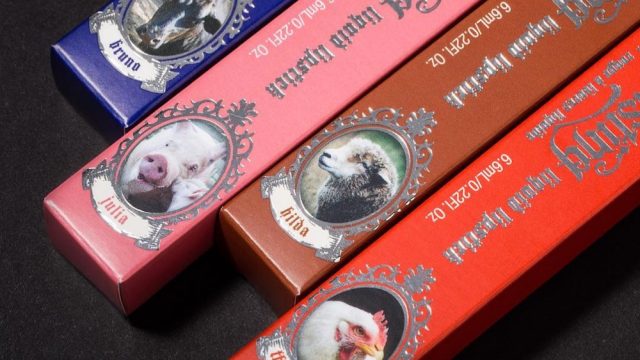 If there's one thing we know about our darling Kat Von D, it's that she cares about animals just as passionately as she loves makeup. Her continued charity work constantly raises awareness for incredible animal rights causes, and her new Farm Sanctuary lipstick collection is no exception.
For each of the four lipsticks sold, 20 percent of the proceeds will go directly to the Farm Sanctuary to help end animal suffering. This incredible organization is responsible for saving countless of animals' lives, and we can't think of a better way to spend our money and add to our lipstick collection.
The limited-edition Kat Von D Beauty Farm Sanctuary Collection will be available online on November 14th.
https://www.instagram.com/p/BaexR3MnxVR
The collection will launch in-stores at Sephora in January 2018.
These four beautiful Everlasting Liquid Lipstick shades include: Julia, a peachy pink; Bruno, a metallic midnight blue; Thumbelina, a warm scarlet; and Hilda, a terra cotta brick.
https://www.instagram.com/p/BaenCzhnJZz
The lipsticks are all named after animals who reside at Farm Sanctuary. Bruno the cow, Julia the pig, Hilda the lamb, and Thumbelina the chicken. Isn't that absolutely delightful?
Kat Von D is just as likely to find inspiration for her products in a cathedral as she is by the heroes who work to rescue innocent animals.
https://www.instagram.com/p/BUNPVAggb-q
We are so happy to support the folks at Farm Sanctuary who rescue and rehabilitate animals who were in horrible situations.
There is no better way to spend our money and look good doing it than to support such a worthy cause. Which of these gorgeous shades will you be rocking? It's going to be tough to choose.