Kat Von D Beauty is coming out with blue shimmer lipstick, and it looks otherworldly
Few brands do sneak peeks as gloriously as Kat Von D Beauty, and their latest has beauty lovers the world over screaming for joy. The brand's vice president of product development, Nancy McGuire, has been giving us sneaky looks at what's to come, and yesterday she posted a picture of a blue shimmer lipstick that's headed our way! We're dead on the floor.
This bright blue lipstick is so otherworldly and beautiful. It's going to be a must-have the second it hits the shelves. We have a hunch it has something to do with those stunning glitter swatches she posted a few weeks back, and we can't wait to find out more! What do you think — are there more shimmery, glittery lipsticks headed our way?
https://www.instagram.com/p/BQllcsPgE3z
Look at those sparkles! It's so rich, and we can see that it's thick and creamy from all the way over here!
Fans are speculating that it's part of a long-awaited and much-speculated Metal Crush collection, but we won't know for sure til an official announcement is made!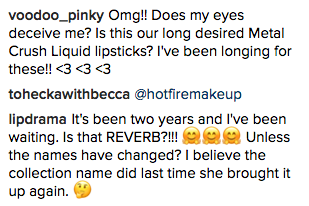 And this stunning blue shade isn't the only color she's been teasing. Though she's been a bit more subtle, she's also given us a look at other shimmery products that look absolutely divine.
https://www.instagram.com/p/BQeSOl3jB-e
She threw this shimmer on over Sanctuary liquid lipstick. Could it be a topcoat or its own lipstick? Or something else entirely?
And WHAT in the world could this silver sparkle shade be? Our minds are telling us eyeshadow, but our hearts are desperately hoping that it's a lipstick.
https://www.instagram.com/p/BQdyxpijHHQ
Could you even imagine the alien magnificence of a highly pigmented silver glitter lipstick? We're screaming.
Fans of Kat Von D Beauty are understandably flipping out with excitement over all the possibilities. And you know that all this teasing can only mean that an official announcement is imminent!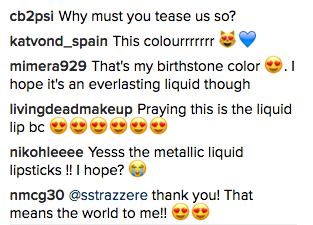 Keep your eyes peeled on Kat Von D Beauty's official account for news on what could be headed our way. Whatever it is, we know we're going to love it judging from incredible that blue lipstick looks.
Are you down to rock a blue lip? It's definitely a bold and daring look, but this beautiful lipstick makes it look easy and accessible. Maybe we'll all be taking a chance on it and rockin' some shimmery blue mouths before you know it.