This is what the inside of Kat Von D's 10-Year Anniversary palette looks like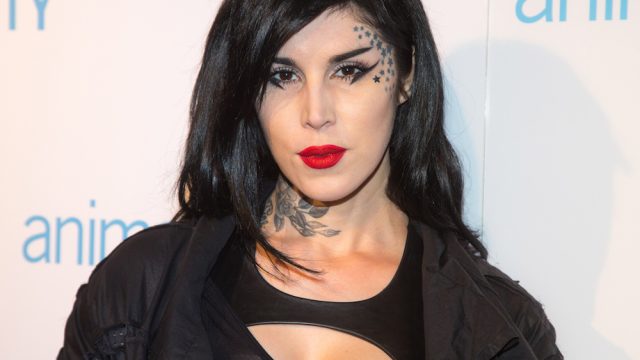 It feels like we've been waiting a whole lifetime for the arrival of Kat Von D Beauty's 10-Year Anniversary Collection, but we are now only a month away and we finally have the scoop on all it will entail. We've gotten glimpses of some of Kat Von D's artwork for the line, but now we know with certainty what to expect and it's every bit as stunning as we had hoped.
The recent video teaser featuring gilded modern muses had us dying to know more about what might be included in Kat Von D Beauty's Anniversary Collection, and here it is: There are 2 new shades of lipstick in both Everlasting Liquid Lipsticks and Studded Kiss finishes, a Golden Tattoo Liner, a Golden Brush Collection, A Metal Crush Extreme Highlighter, an Eyeshadow Palette, and a Train Case lined with red velvet. The packaging is next-level gorgeous and covered in Kat's romantic, gothic-inspired artwork.
Kat has poured so much of herself into this collection and it's incredibly evident even with these quick glimpses of the products that are headed our way. It's the culmination of all her hard work and passion, and we can't wait to share it with her.
In celebration of her Latinx heritage, the Kat Von D Beauty 10-Year Anniversary Collection is launching on Cinco de Mayo.
https://www.instagram.com/p/BgpMU5sAD4K
It's fitting seeing as this collection is all about Kat's inspirations, roots, and life. It's a true homage to her aesthetic and is a beautiful representation of all her brand has accomplished in 10 years.
https://www.instagram.com/p/BhJzOPEneUE
The shades in the eyeshadow palette are absolutely gorgeous, and we're thrilled that it'll be out in time for spring. We are positively itching for swatches.
https://www.instagram.com/p/BhJwW0tgZ9t
Each of these 10 shades is brand new and named after the muses Kat selected for the upcoming Anniversary campaign, along with some names that honor some of the individuals who work with Kat behind-the-scenes.
https://www.instagram.com/p/BhHgGkug5u6
The train cases are an incredible feat on their own, with artwork that is absolutely mind-blowing and a rich, multi-level interior covered in lush, red fabric.
https://www.instagram.com/p/BhHfq-vgXcN
Kat signed 400 of the cases, will you be one of the lucky ones who gets their hands on one? You're gonna need someplace to store all your goodies.
Keep those eyes peeled for more in-depth looks at the products and be ready come May 5th, because it's gonna be a mad dash to get them before they sell out.