Karlie Kloss shut down those rumors that she and Taylor Swift aren't friends anymore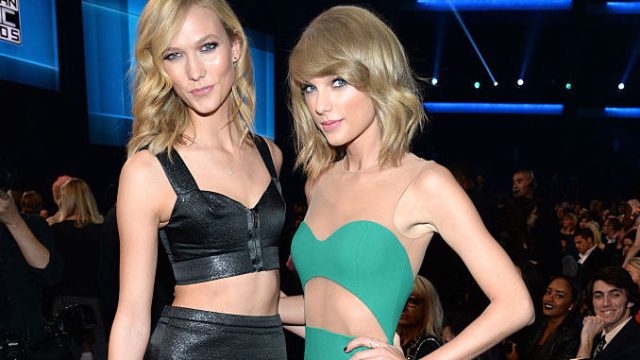 Well, it's been another day in the Taylor Swift rumor mill. The pop singer has been attempting a lower profile as of late, and she hasn't been seen with her famous squad in many months. That fact has led some people to question some of her current friendships, including the one with model and entrepreneur Karlie Kloss.
The two tall, blonde friends appeared to be thick as thieves at one point. In February of 2015, they covered Vogue together. They cropped up on each other's social media accounts all the time. But since the Old Taylor died when Reputation came out, we haven't seen too much of the two friends in public. Fans ramped up the rumor when they noticed Kloss didn't have a place on the "Junior Jewels" T-shirt in Swift's "Look What You Made Me Do" music video.
But now, Kloss herself has come out to say the two are still very much friends. In a recent interview with the New York Times, Kloss said, "Don't believe everything you read." The NYT reporter, meanwhile, wrote that the two are "good friends" who "talk frequently."
Their lack of paparazzi or personal photos makes sense for a few reasons.
One, Swift has been on social media lockdown as of late. She doesn't post nearly as much as she used to, and now, her updates are always Reputation-related. Two, Kloss is an international model who travels nonstop and also runs a coding program for teens. That's not even counting Swift's busy schedule. When she's not gearing up for her world tour, she's busy hiking in the woods with her boyfriend Joe Alwyn.
This isn't the first time people have speculated about how real Swift's numerous friendships are.
Lorde, for example, was taken to task in the summer of 2017 over comments taken out of context that suggested she and Swift weren't close. The incident forced Lorde to step in and defend herself as Taylor's "person."
It's fun to speculate on celebrity relationships, but gossip doesn't always mean what we think it means.
Even if Kloss and Swift haven't been as close lately, that would be natural. Friends ebb and flow, leave and come back together. Thus is the way of life, even with famous people. But still, #KaylorForever.