Karlie Kloss shared this sassy photo of Taylor Swift in honor of Drake's belated birthday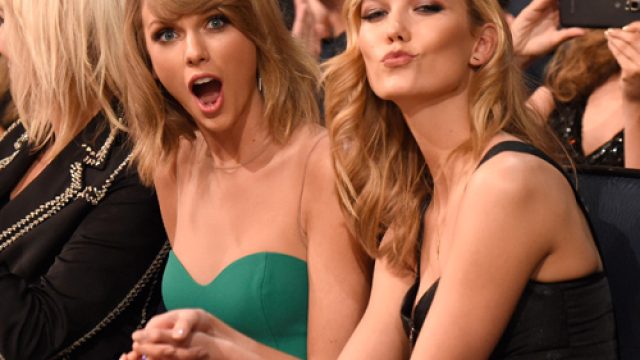 Long live Kaylor! While partying through the night, Karlie and Taylor posted a sassy pic for Drake for his 30th birthday, and again, they are giving us major #SquadGoals.
Kloss captioned the snap. "Happy belated @champagnepapi."
The two longtime friends looked sassy and chic in all-black ensembles as Kloss looked over her shoulder at the camera and Swift snuggled up to her.
Both girls were in attendance at the "Hotline Bling" singer's big celebration on Sunday in Los Angeles, alongside other stars like Katy Perry, Shay Mitchell and Zoe Kravitz. The two ladies however, seemed to have the most fun hanging out with each other, which isn't surprising since they are best friends.
In fact, this sassy polaroid shot just proves that Kloss and Swift have an unbreakable friendship bond and it got us thinking about all of the other great friendship moments these ladies have had over the years. Yes, so we are still jealous that we're not a part of their squad, but we can pretend by looking through their BFF photos, so it's okay.
Remember when Swift had that awesome 4th of July party and Kloss was obviously there?
They went down the giant waterslide together, so clearly their friendship is fully intact.
There was also the time that Kloss got to strut her stuff during one of the "Bad Blood" singer's 1989 concerts and it was awesome.
If that isn't enough proof that Kloss is the Rachel to Swift's Monica -- yes, we think Kloss is more like Rachel on Friends than Swift -- their birthday posts to one another are always perfect.
https://www.instagram.com/p/BIp9xB5jmzI
See, just look at all the sweetness!
What do you think about Kloss and Swift's party pic? Would you want to join their squad?