Karlie Kloss opened up about her connection to the Trump family for the first time ever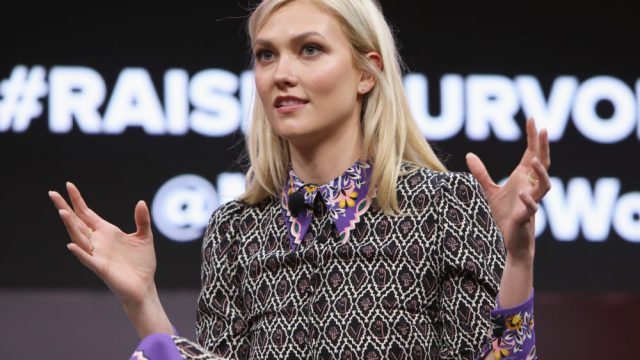 This summer, model Karlie Kloss and businessman Joshua Kushner announced they were engaged after six years of dating. And as excited as Karlie's fans were over the news, there was one detail that some found…perplexing. For those who don't know, Joshua Kushner is the younger brother of Jared Kushner, husband of Ivanka Trump and high-level Trump adviser. That means that when the couple ties the knot, Karlie will be in-laws with Ivanka and Jared.
Karlie and Joshua have made it clear that they vehemently do not support Trump's politics, though Karlie has remained pretty mum about the "in-law" issue—until now.
In an interview with Vogue published on September 11th, the Kode With Klossy founder opened up about her feelings on marrying into a Donald Trump-adjacent family. "At the end of the day, I've had to make decisions based on my own moral compass—forget what the public says, forget social media," Karlie told Vogue. "I've chosen to be with the man I love despite the complications. It's frustrating, to be honest, that the spotlight is always shifted away from my career toward my relationship. I don't think the same happens in conversations with men."
It's definitely unfair that many are more concerned with Karlie's relationship with her future in-laws than her impressive career. However, it's clear that Karlie isn't letting it bring her down.
Kloss also explained to Vogue that both she and Joshua are proud liberals.
"Josh and I share a lot of the same liberal values that guide our lives and the things we stand for, Karlie told the magazine. "We've really grown together personally and professionally. Josh knows that I'm just a nerdy, curious human being. I think that's why he loves me. We have each other's back.
Karlie has made her stance as a Democrat clear on multiple occasions. "One of the greatest privileges we have as Americans is a voice. I'm proud to say I did my part, now it's your turn. ? ?? #ImWithHer," she tweeted on Election Day in November 2016.
Additionally, in January 2017, the day after Trump's inauguration, Karlie and Joshua were seen at the Women's March together, Elle reported. And in August 2016, Joshua's spokesman told Esquire that Joshua "will not be voting for Donald Trump in November."
Now that Karlie has officially commented on the matter, hopefully fans will start focusing more on her inspiring career as a fashion model and coder and less on her ties to the Trump family.