Karlie Kloss looked like a #tbt Britney Spears in this winter-friendly school-girl outfit
Stop everything — if the old school "Hit Me Baby One More Time"-era music video style is reviving, we have a right to know. That is, that's what we assumed was happening when supermodel Karlie Kloss wore this Britney inspired school-girl outfit out in snowy NYC this week. The plaid, the perfectly crisp white pressed blouse. Sure, it's not tied up to right under her boobs and the skirt comes down past her crotch (no shade, Brit. It was a different time for all of us), but this look is serving major '90s school uniform vibes. We've been looking for a reason to try this look on again and we are taking Karlie's winter-friendly version of the outfit as permission to do so.
There's a reason this look never truly goes away. It's classic, preppy and a little wicked. Nobody trusts a girl in a school uniform…especially when she's doing choreography down a high school hallway.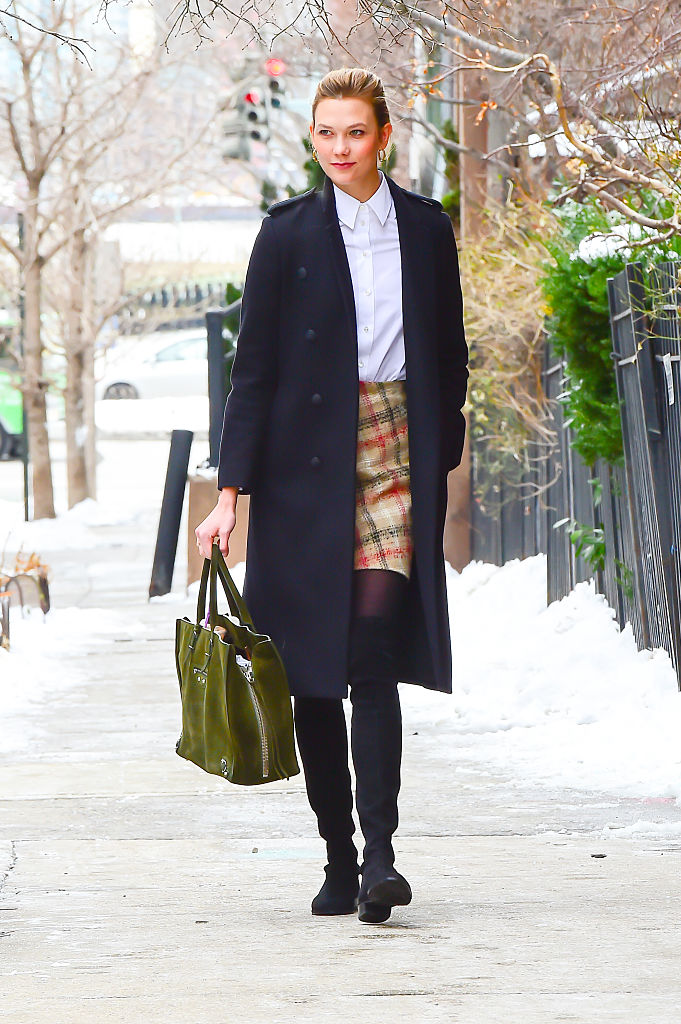 Karlie's take is high class and classy af. She's opted for a plaid pencil skirt instead of a short pleated one, and has covered up in a heavy fitted overcoat.
The collar on this stark white shirt is everything. We love a big ol' '70s collar to add depth and dimension to a block of white.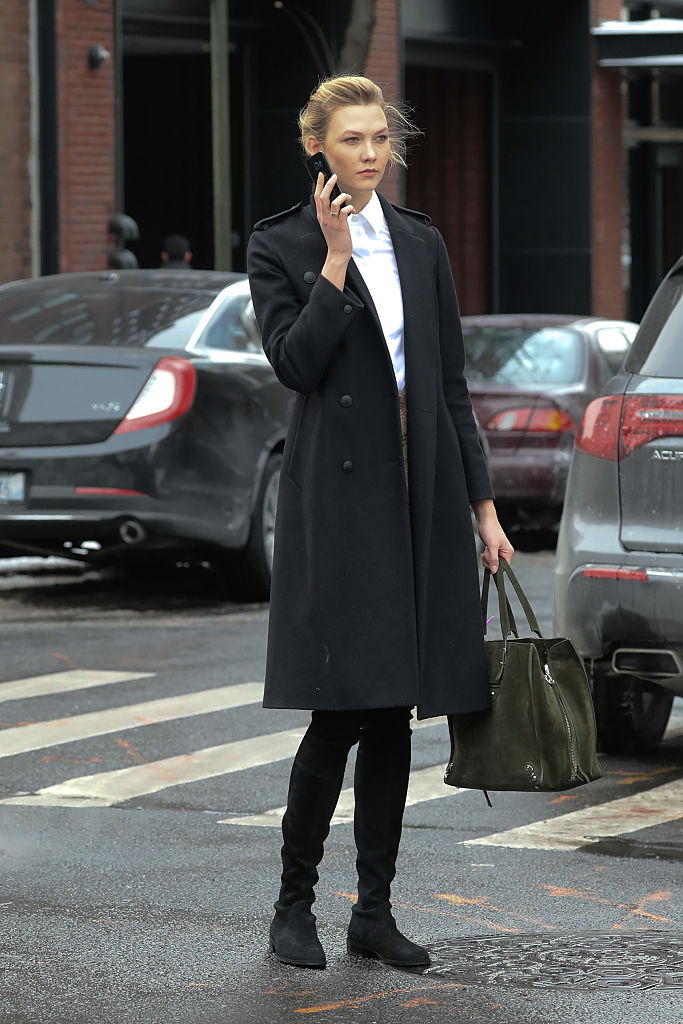 Is there anything as classic as a white button-up? Pair it with jeans, layer it under a sweater, tuck it into a high skirt. Why isn't everyone's everyday look just a white oxford shirt? It should be!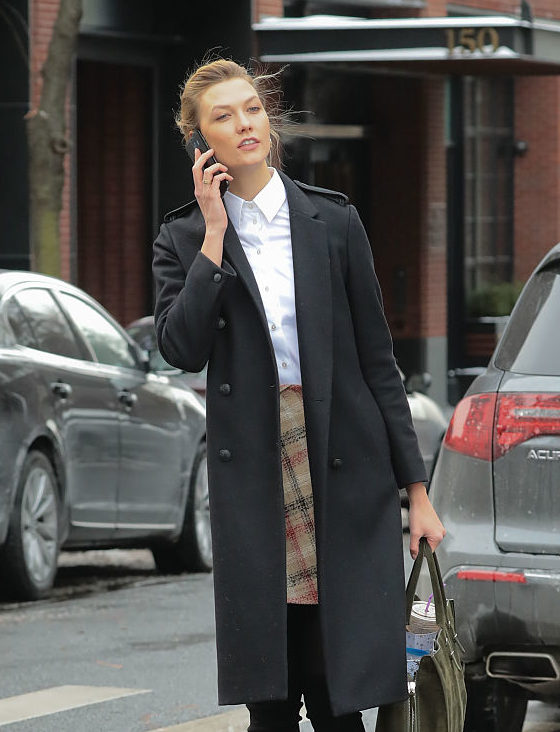 All Karlie's missing is pigtails and pink pom-poms. On second thought…maybe we leave that part in the past where it belongs.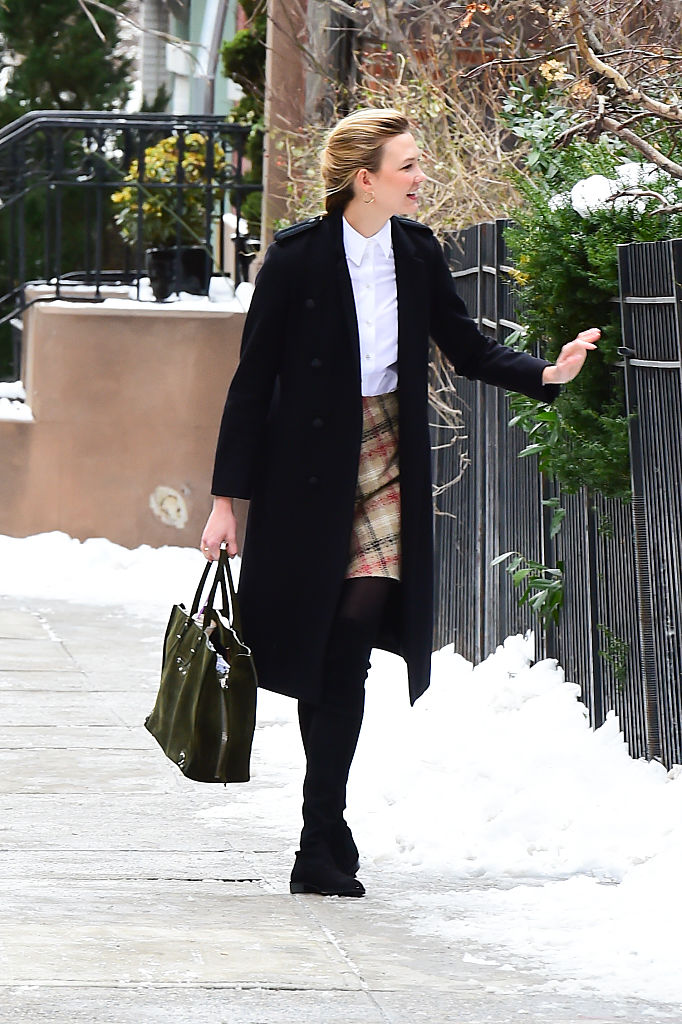 Karlie wore some knee high boots and carried an olive menswear-inspired briefcase bag. Together the look reads: "I'm on my way to a very important meeting because I'm a boss…but I might have time for a cocktail after, with or without someone to accompany me."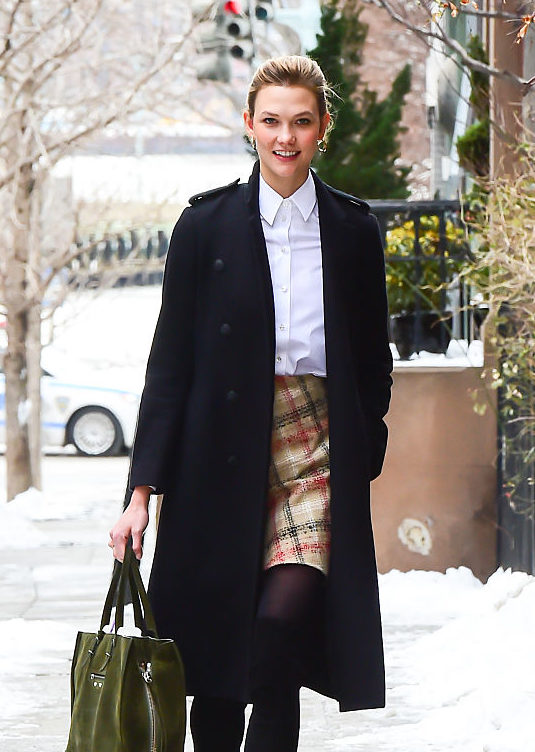 We must confess, we still believe! Here, revisit and compare:
https://www.youtube.com/watch?v=C-u5WLJ9Yk4?feature=oembed
We know we've still got some pleated plaid lost in the back of our closet. Time to get it out! Thanks, Karlie!