The amount of money the Kardashians are paid for one sponsored Instagram post is bananas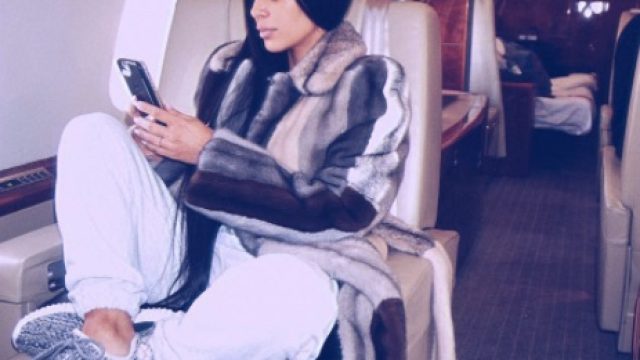 While most of us use Instagram to look at bizarre memes and share photos of our vacations and selfies, the Kardashians use it to rake in millions. MILLIONS. Sure, we were already aware that this was happening, but we have to admit we didn't realize just how much money they were making. Are you ready? No, really, are you ready?
Michael Heller, who works with the Kardashians as the CEO of digital marketing firm Talent Resources, recently told US Weekly that sponsored Insta posts account for 25 percent of their income. Omg.
Kim, Heller says, tends to stick with products that she has a stake in, such as her Kimojis, but if you scroll through her Instagram you can find her also promoting luxurious brands as well as body-shaping products to her 95.1 million followers.
Here's Kim advertising for a private jet company:
And for a waist shaper:
https://www.instagram.com/p/BQeXcLoFLRV
Khloe and Kourtney don't make as much as Kim, unsurprisingly, as they have less followers — Khloe has 64.3 million and Kourtney has 54.5 — but they still do okay. The younger and elder Kardashian sisters can make up to $250,000 for a campaign.
Khloe, whose brand, as we know, is health and fitness, promotes products such as protein shakes:
https://www.instagram.com/p/BRWQ0vKBVeL
She also advertises for her clothing line, Good American, and her Koko cosmetics collection, which sells through younger sister Kylie's make-up brand.
https://www.instagram.com/p/BRbofswB0aP
While Kourtney seems to go the beauty route — seen here selling a body creme:
https://www.instagram.com/p/BQN5Ut7FBFq
And sunglasses (as well as an anti-bullying campaign):
https://www.instagram.com/p/BPdWUc3gB30
Heller tells US Weekly, "They only endorse what aligns with their lifestyle. They turn a lot down." Hmm. Very interesting. Makes sense.
So, we would not advise looking at your bank account after reading this post.