The Kardashian-Jenner sisters are shutting down their paid apps, and we have some theories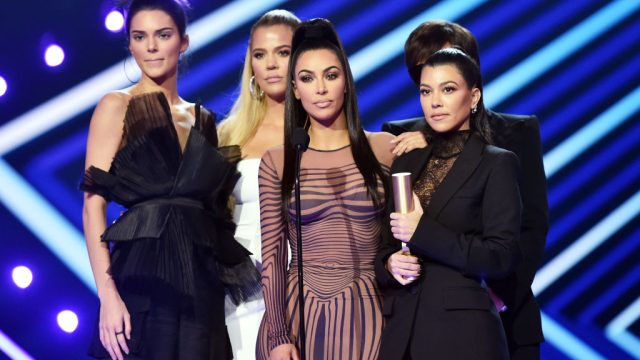 It's been a good run, but the Kardashian-Jenner sisters are shutting down their personal paid apps. The Kardashians launched their apps and websites in 2015 with each site costing $2.99 per month, per sister, to access. The sisters used the apps to share makeup tutorials, post previously unreleased photos, or blog about their babies. However, when the new year rolls around, Kim Kardashian West, Kourtney Kardashian, Kylie Jenner, and Khloé Kardashian (Kendall Jenner shut her site down in 2017) will stop updating their apps.
"We've had an incredible experience connecting with all of you through our apps these past few years but have made the difficult decision to no longer continue updating in 2019. We truly hope you've enjoyed this journey as much as we have, and we look forward to what's ahead," the family said in identical statements on their respective apps.
We have some theories for the sudden shutdown: At no point was a $2.99 a month app going to be any Kardashian's bread and butter when they are raking in tens and hundreds of millions per year. The apps always felt like a companion piece to Instagram, but when you have Instagram for free, why would you need psuedo Insta for a monthly fee?
Also, remember the Kylie ghost-writing mishap? In early 2017, somebody who wasn't Kylie shared an unapproved piece of copy to her app. The app update shared intimate details about Kylie and then-boyfriend Tyga's sex life. Kylie immediately went on Twitter to say that she never wrote that app entry and wasn't aware that it was being published. After that, Kylie stopped posting (or allowing her copywriters to post) anything personal on her app. false
It probably is time to end the Kardashian apps because they didn't meet the standard of a viral celebrity endeavor. You can tell a celebrity endeavor is really successful when other stars try to copy it. For example, Britney Spears' app-based video game was hugely successful and many other stars (including Kim) jumped at the opportunity to make their own versions. It didn't appear that Hollywood blew up with paid app situations like the Kardashian apps, but hey, they tried, and isn't that what entrepreneurship is really about?