People are freaking out about the Kardashian Christmas card "Photoshop fail," and can they live?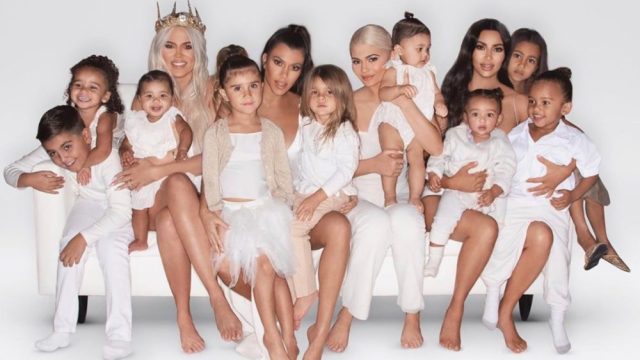 If you're like us, the Kardashian Christmas card has become an annual holiday staple in your life. Sure, we get to keep up with the family all year long through their social media feeds and reality show, but there's nothing like that glamorous card to fully remind us that the year is officially coming to a close. Needless to say, we were utterly bummed when Kim Kardashian West revealed that the 2018 card was cancelled (apparently due to the drama that ensued over last year's holiday card shoot).
But the holiday gods were smiling on us this year, because the fam dropped a surprise card on Christmas Eve, sharing a chic photo of most of the Kardashian-Jenner ladies with their kids.
Kim posted the photo to Instagram, writing, "This year we waited until the last minute to do a card. Schedules were changing, my husband was in and out of town. But the day of this card last minute realized we were all together so we had all of our kids come meet us."
After Kim, Khloé, Kourtney, and Kris posted the photo to their social media accounts, followers took to the comments section, many taking it upon themselves to point out "Photoshop fails" in the card (though most of the comments were positive).
All the negative commentary seems unnecessary, IOHO. The family has admitted to Photoshopping the card in the past—back in 2012, Khloé told Ellen DeGeneres that she and ex-husband Lamar Odom (as well as Kendall and Kourtney's ex Scott Disick) were digitally added to the card, saying, "We pretend that we're always together. The power of cameras and Photoshop." So it's not as if this is even new information.
Basically, can we just let them live and enjoy the stunning photo of mamas and babies?